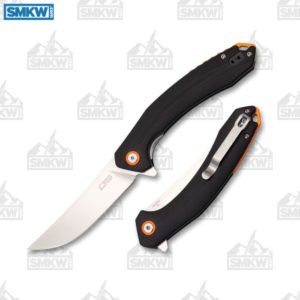 The CJRB Gobi 1906 is one of the latest releases from CJRB. It has an upswept blade and a contoured G-10 handle with just about the perfect amount of texture. You can pick one up for about $35.
The CJRB 1906 has a 3.5" D2 upswept or trailing point blade with a flat grind and an HRC of 58-60. Just like all CJRB knives, this knife features a ceramic ball bearing pivot assembly for a fast and smooth action.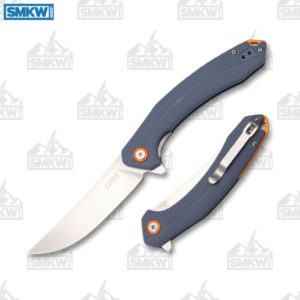 Mounted on stainless steel liners, the G-10 handles on this linerlock have been contoured for a comfortable grip and CNC machined for a great look. It's available in four different colors: black, green, grey, and "mint" G-10. Now, we think the grey is more of a blued steel grey and the "mint" G-10, we believe is actually just natural G-10, which is perfect for those of you who want to dye your handles to whatever color you want. Regardless of the handle color, each knife has an anodized orange pivot collar and back spacer. They also have an ambidextrous, tip-up pocket clip and lanyard slot. It's 4.72" closed and weighs 3.7 ounces.
CJRB Gobi 1906
D2, Stonewash Finish
3.5" Upswept Trailing Point
HRC 58-60
Flat Grind
0.13" Blade Thickness
Linerlock
G-10 Handles
Stainless Steel Liners
Ceramic Ball Bearing Pivot Assembly
Flipper
3.7oz
4.72" Closed
8.23" Overall
For $35 you can't beat the CJRB Gobi 1906. It's fast, affordable, and we think it looks great. To get this knife click any link in the article or simply click the button below.


All images courtesy of Smoky Mountain Knife Works – smwk.com.