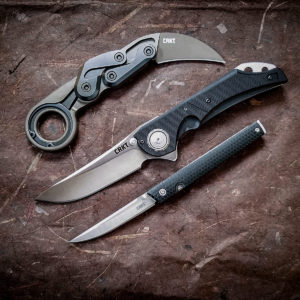 Happy New Year! We're starting this year off by wrapping up the list of 2019 Favorites with CRKT. An easy choice for the KNR Favorite Knives of 2019 would have been the CRKT XOC. There was complete and total agreement amongst all the writers and the Editor that the XOC was the all-around best knife of 2019. We all fondly smiled at the memory and moved on to models that still exist, and will likely continue to exist in the CRKT pantheon.
No knife manufacturer embraces new technology quite like CRKT. If you find a fabulous modern "neat" knife with a high fidget factor and a bit of a trick to it, odds are good it's a CRKT. They have so many interesting knives with unique mechanisms, it's like the CRKT executives see them and and say, "To heck with the re-tooling costs! That's cool! Let's make it! Marketing team, you come up with a fabulously hilarious and unique name for it while we engineer stuff!"  At least, that's how we imagine these things work. We don't actually know. Anyway, of the three top contenders for CRKT in the KNR 2019 Favorites, we have traditional slipjoint maker Richard Rogers' CRKT CEO, Flavio Ikoma's Seismic with it's unbeatable Deadlock, and absolutely unique Provoke by Joe Caswell.
CRKT CEO
The CRKT CEO is the daily carry knife for one of the writers. It's small, fast, and unassuming. It has the slicing power of a traditional muskrat combined with the fidget factor of a modern folder. Seriously, this knife all but sneers as it smoothly slides through all the boxes, Dorito bags, and doughnut packets he can throw at it. Now, we know for a fact that Richard Rogers has a custom CEO with a flipper. We've seen it on his Instagram account. We sincerely hope CRKT makes that knife. If they do, we want that knife in our lives. Are you listening CRKT? We want that knife, and you should go make it so we can go buy it. We are just saying…

CRKT Seismic
Designed by the brilliant and ridiculously creative Flavio Ikoma, the CRKT Seismic has one of the most powerful locks on the market. The Deadlock is a simple and ingenious invention. Steel bolts go through the blade. To disengage the lock, push the button. We heard at Blade Show that it withstood so many hundreds of pounds of pressure without a single failure. This lock is hands down the best lock of any 2019 knife release. We expect you're going to see many, many CRKT models with Deadlock next year.

CRKT Provoke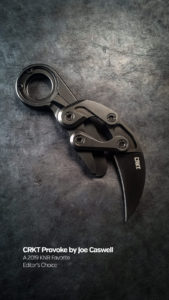 The CRKT Provoke is the Editor's favorite new release from CRKT. It was designed by Joe Caswell. The level of ingenuity, creativity, and engineering required to make the Provoke an actual functioning knife literally boggles the mind. We honestly can't imagine how the whole thing came about. It's like Joe Caswell saw a really old Bernard Levine April Fool's joke about a long unfolding knife and said, "Heh. Hold my beer." We can't tell you how the whole thing really happened. It's just brilliant.
What we can tell you that the days when the Editor carries that knife to work, we're going to hear "snick, snick" all day long. We can also tell you that he smiles every time he frees a knife from the confines of a clam pack with it.
We'd love to see what CRKT does with this innovative design going forward. Because we're always watching social media, we know Joe Caswell is back in R&D with new stuff. We can't wait to see what he comes up with next.

Any one of these three knives from CRKT is an outstanding knife with fantastic tech that makes an excellent addition to any knife collection. If you're interested in any of these knives, click any link in the article or simply click the button below.


All images courtesy of Smoky Mountain Knife Works – smkw.com.