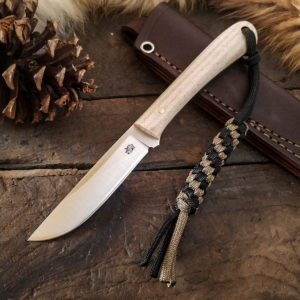 The newly released, SMKW exclusive LT Wright "The Bandit" is a small batch produced, USA-made fixed blade knife with a slim slicing profile. It has a skinny neck that swells to a fuller pommel and gives this knife a balance that rests perfectly in your palm.
The Bandit features a 3.25" satin finished AEB-L stainless steel drop point with a 90-degree sharpened spine and a super sharp edge right out of the box.  AEB-L is a less often seen stainless steel.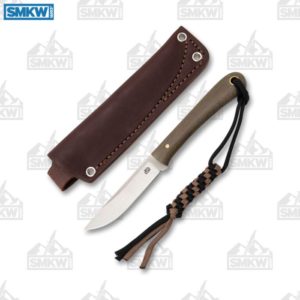 According to Larrin Thomas, PhD who is a Metallurgical and Materials Engineer and writes for knifesteelnerds, AEB-L is a good steel that walks the tightrope of "…balancing high hardness with good corrosion resistance, and maxing out the amount of carbide that still maintains high toughness, [and] sharpness…. AEB-L with its high toughness has very good 'edge stability' meaning it is very well suited for high cutting ability edges." Our takeaway from this comprehensive and compelling article is that the steel on this knife is good and it suits its purpose. If you've an interest in metallurgy or the steel in your knives, you should absolutely check out Dr. Thomas' blog.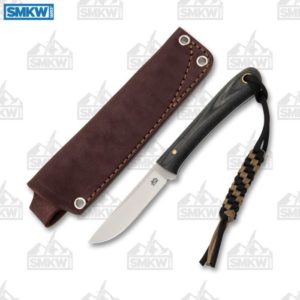 The micarta handles on "The Bandit" are, as always, perfectly finished for a smooth and comfortable four-finger grip for the average sized hand. It's available with black, OD green, natural canvas, and Snakeskin linen micarta. We can't imagine why they'd put a beautifully striped cream-colored snakeskin micarta handle on this knife, but we did sing an old Jerry read song the entire time we wrote this article. The Snakeskin linen micarta is probably our favorite of the batch. Finally, this knife has brass pins, a brass lanyard tube, and comes with a paracord lanyard and a quality, deep carry leather sheath.
LT Wright "The Bandit" Details
AEB-L Stainless Steel, Satin Finish
3.25" Drop Point
0.08" Blade Thickness
90-degree, Sharpened Spine
Full Tang
Micarta Handles
4.125" Handle Length
0.65" Handle Thickness
0.61"-0.82" Handle Width
2.64 Ounces, Knife Only
Leather Sheath
7.375" Overall
Made in the USA
For an outstanding USA-made daily carry fixed blade, you can't go wrong with the LT Wright "The Bandit." If you're interested in these knives, click any link in the article or simply click the button below.


All images courtesy of Smoky Mountain Knife Works – smkw.com.