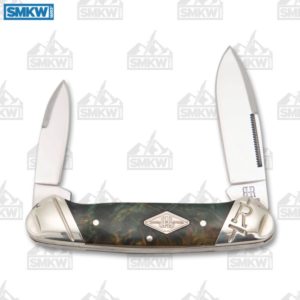 We were seriously impressed with the look of the new Rough Ryder Artisanwood series. We don't know what kind of wood they used or how they were made, but they are very pretty knives. Because the handles are made from natural materials, it's almost as if no two are exactly alike. Some tend to be more green with goldish highlights. Others tend toward more lighter green with yellow highlights. Prices for these beauties range from about $10 for the small toothpick all the way up to a budget friendly $17 for the Equestrian pattern.
This series is available in the following patterns: Small Toothpick, Canoe, Stockman, Small Moose, Trapper, Lady Leg, and the Equestrian.
Each knife in this series features wood handles in shades of a dark forest green with swirls of brown and yellow. They're accented by nickel silver Slant 'R bolsters and the Rough Ryder 20 Years shield. The 440A stainless steel blades are mirror polished and feature half stops and match strike pulls.
Click any image in the following gallery to launch a slide show of larger images.
Rough Ryder Artisanwood Details
440A Stainless Steel, Mirror Polished
Half Stops with Match Strike Pulls
Nickel Silver Slant 'R Bolsters
20 Years Shield
Brass Pins and Liners
For an average cost of about $15, you can't beat the Rough Ryder Artisanwood series. They're great knives for the price and each one is uniquely beautiful. If you're interested in these knives, click any link in the article or simply click the button below.


All images courtesy of Smoky Mountain Knife Works – smwk.com.