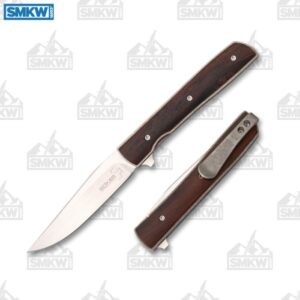 The Boker Plus Urban Trapper was hot in 2019. It's long slender shape and flipper design really grabbed people's attention. Boker has now scaled down this popular model to create the new Boker Plus Urban Trapper Petite, but there's nothing dainty about it.
Though the two knives look almost identical without a size reference, Boker shaved an inch-and-a-half off the original Urban Trapper to create the Urban Trapper Petite. It now measures just 3.4″ closed and 6.2″ overall. Making it smaller also dropped a few ounces. It went from 1.8oz to 1.16oz (just 33 grams if you're into that sort of thing).  All of this makes a pocket friendly EDC flipper even pocket "friendlier."
The Boker Plus Urban Trapper Petite features a 2.8″ VG-10 clip point blade with a horizontally brushed satin finish. With a ball-bearing pivot, the manual flipper is quick and agile, and the .1″ thick blade locks up with a titanium framelock.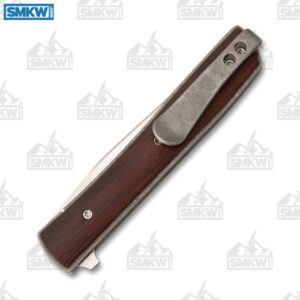 The brown Cocobolo handle scales are screwed to a titanium frame with three screws and completely cover the framelock. The reverse features a a removable, deep-carry, tip-up pocket clip.
Boker Plus Urban Trapper Petite Details
2.8″ VG-10 Clip Point Blade
.1″ Thick
Manual Flipper with Ball Bearing Pivot
Titanium Framelock and frame.
Cocobolo Handle Scales
Removable Deep Carry Tip-up Pocket Clip
3.4″ Closed
6.2″ Overall
The Boker Plus Urban Trapper Petite Cocobolo really rides easy in the pocket without losing too much prowess. If you'd like to learn more about this knife, simply click any link in the article or the button below.