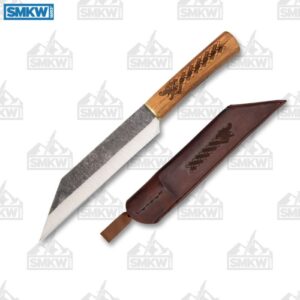 The Condor Norse Dragon Seax builds on the highly popular Norse Dragon Knife. It's a seriously cool knife with a ton of history behind it. If you compare this knife to the Seax of Beagnoth, you'll see this is a fairly faithful reproduction of this historic knife style. The "broken-back seax" terminology is used to differentiate this style of knife from other seax styles of knives.
The seax was sort of the utility blade of the ancients. It was used for just about everything from cutting to slicing and occasionally stabbing. It features a 7" 1095 carbon steel blade with a natural forged finish. The blade shape is almost a trapezoid with basically a long straight cutting edge and a long straight spine that sharply angles down to a point.
The Burnt American Hickory handle has a Nordic design. It comes with a handcrafted, welted leather sheath with a belt loop attachment that matches the handle. It's 11.5" overall and weighs about six ounces.
Condor Norse Dragon Seax Details
1095 Carbon Steel, Natural Forged Finish
7" Seax Blade
0.12" Blade Thickness
American Hickory Handle
Welted Leather Sheath
6 Ounces, Knife Only
8.4 Ounces, Knife and Sheath
11.5" Overall
Made in El Salvador
If you like historic blades or just really cool knife, you'll absolutely want to check out the Condor Norse Dragon Seax. To get this knife click any link in the article or simply click the button below.


All images courtesy of Smoky Mountain Knife Works – smkw.com.