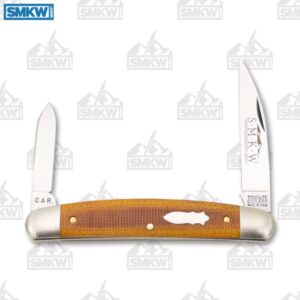 If you've been waiting on the GEC Tidioute 62 Easy Pocket Congress pattern to arrive, the wait is over because these fantastic knives are arriving at doorsteps right nwo. That includes the SMKW Exclusive GEC Tidioute Easy Pocket Congress with natural canvas micarta handles with a brushed finished bomb shield. We love this pattern because it's a clean, medium-sized pocketknife that practically disappears in your pocket. Let's look at them.
The 62 Easy Pocket Congress is an equal end pocketknife with two 1095 carbon steel blades on opposing sides. It's often called a half congress. The main Wharncliffe blade is 2.375" and the secondary pen blade is 1.625". It has clearly defined half stops and a nail nick opening.
There's an easy open cutout in the back handle (also called the pile side) for the secondary pen blade making both blades easily opened. It's currently available with Blood Red Jigged Bone and Natural Canvas micarta handles. GEC tells us that this pattern will be available with Unicorn Acrylic, Camel Bone, and Stag handles. The SMKW exclusive natural canvas micarta model features the SMKW logo on the main blade, brushed nickel silver bolsters, and a brushed nickel silver bomb shield. The blood red jigged bone model has mirror polished blades, bolsters, and a Tidioute banner shield. They're 3.875" closed and weigh about 2 ounces.
GEC Tidioute 62 Easy Pocket Congress Details
1095 Carbon Steel, Mirror Polished or Satin Finish
2.375" Wharncliffe
1.625" Pen Blade
Nail Nick
Half Stops
Slipjoint
Natural Canvas Micarta or Blood Red Jigged Bone Handles
Brass Pins and Liners
Nickel Silver Bolsters and Shield
2 Ounces
3.875" Closed
Made in the USA
The GEC Tidioute 62 Easy Pocket Congress is a fantastic addition to any pocketknife collection. If you're interested in these knives, click any link in the article or simply click the button below.


All images courtesy of Smoky Mountain Knife Works – smkw.com.