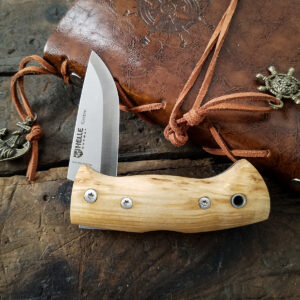 Helle Kletten, you're a beefy little chunk of a pocketknife and let us start by saying we love you. You're the smallest knife ever made by Helle and you're just as beautiful the biggest of your fellow knives.
"Kletten" means "small mountain or large hill" in Norwegian. The curly birch handles on this sweet little lockback are just over ¾", making the Helle Kletten a small mountain or a large hill in the pocketknife world. They're mounted on stainless steel liners and secured with screws. This allows for easy disassembly and easy clean up – not to mention the almost limitless possibilities for end user customization.
The Kletten has a 2.15" triple laminated stainless-steel drop point with a blade thickness of about 0.10". It opens with a nail nick and firmly locks in the open position with a back lock. It's 3.15" closed and weigh just under 3 ounces. For a quick size comparison, the Kletten has a slightly smaller closed length than both a canoe and a small Sodbuster.
Helle Kletten Details
Triple Laminated Stainless Steel, Satin Finish
2.15" Drop Point
0.10 Blade Thickness
Nail Nick
Lockback
Curly Birch Handles
Stainless Steel Liners and Screws
Lanyard Hole
Leather Strap Lanyard and Cleaning Cloth
2.96 Ounces
3.15" Closed
5.3" Overall
You can see it in our eyes, you can see it in our smiles the Helle Kletten we love you. Now we're going to post this article before the Editor can boo all over our Lionel Ritchie/Helle Kletten fun. If you're interested in this knife, click any link in the article or simply click the button below.


All images courtesy of Smoky Mountain Knife Works – smkw.com.