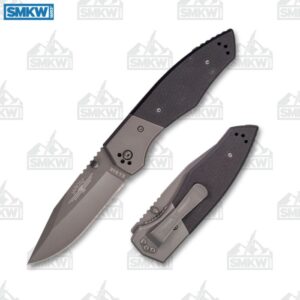 We've lost count of the number of knives Jesse Jarosz has created in collaboration with Ka-Bar, but the Ka-Bar Jarosz Beartooth rounds out the field of fixed blades and folders nicely. This full-size EDC folder is robust and heavy. It fits into a niche most of the Jarosz line hasn't. It's extremely budget friendly ($19.99 at smkw.com right now).
The Ka-Bar Jarosz Beartooth is a thumb stud opener and features a 3.5″ 5Cr15 stainless steel drop point blade with a titanium nitride coating. It has a stainless steel bolster that's also titanium nitride coated and grayish black G10 handle scales. If you're trying to conjure the look of this knife in your head, just think about the recent Ka-Bar Folding Hunter. That's it.
The blade has a hollow grind and a nice top swedge. The handle is stout but comfortable and features a four position pocket clip. It's a linerlock that weighs in at a solid 5.6oz. At 8.25″ overall, this is definitely a full size EDC. To us it looks like the Folding Hunter's big brother with more modern ergos.
Ka-Bar Jarosz Beartooth Details
3.5″ 5Cr15 Titanium Nitride Coated Drop Point Blade
.11″ Thick
Dual Thumb Stud Opener
Linerlock
Stainless Steel Bolster with Titanium Nitride Coating and G10 Handles
Four-way Pocket Clip
8.25″ Overall
If you're looking for an affordable, full size EDC, the Ka-Bar Jarosz Beartooth folder just might be the knife you need. At $19.99, it's truly affordable. If you'd like to learn more or get one for yourself, simply click any link in this article or the button below.