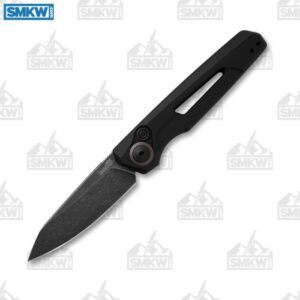 We're seriously excited about the 2020 lineup for Kershaw. There are slipjoints, balisongs, hatchets, fixed blades, interesting looking new EDCs, and updated versions of existing models. We much prefer to have a knife in hand to do an article, but we just couldn't wait for the Kershaw Launch 11. Why? First, the hole in the handle caught our eye because it's simply a different look. Then we noticed the size of this knife is fills the gap between all the other knives in the Launch series. It's bigger than the 4, 9, and 10 but smaller than all the others. Then, we saw it's very close to the size of the bestselling Kershaw Leek. Since it's our humble opinion that the Leek is the easiest daily carry ever made, we have a hope that the Launch 11 will be almost like a fully automatic push button Leek. That would be just about the awesomest thing ever.
The Kershaw Launch 11 features a 2.75" CPM-154 blade with a black-oxide blackwash finish. The blade shape on this knife is interesting because, despite deeming it a "modified drop point", it's truly not quite any traditional blade shape. It has a longer slicing edge with a slightly reinforced tip which will give it a bit more strength than the Leek.
The black anodized aluminum handle has a bronze pivot collar, giving it just a tiny pop of color. It also has a cutout in the handle which keeps the weight down to 2.1 ounces. That's almost a full ounce lighter than our current favorite Leek. It's 3.8" closed which means the handle length is only about 1/8" smaller than the handle on the Leek. It also has an ambidextrous tip-up pocket clip.
Kershaw Launch 11 Details
CPM-154, Black-Oxide Blackwash Finish
2.75" Modified Drop Point
Push Button, Out-the-Side Automatic
Black Anodized 6061-T6 Aluminum Handle
Bronze Anodized Pivot Collar
Integrated Backspacer with Lanyard Tie-Off
Ambidextrous Tip-Up Pocket Clip
2.1 Ounces
3.8" Closed
6.75" Overall
Made in the USA
We can't wait to get a Kershaw Launch 11 in hand. Kershaw tells us that these are supposed to be arriving in the first quarter of 2020. If you like the Leek, and you're can carry an out-the-side automatic knife, you absolutely want to check this knife out. It's a tiny bit smaller and a full ounce lighter. Overall, we believe it will make an excellent daily carry and a fantastic addition to any knife collection. To pre-order this knife, click any link in the article or simply click the button below.


All images courtesy of Smoky Mountain Knife Works – smkw.com.