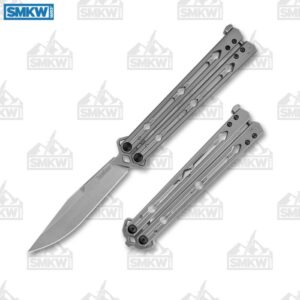 Some knives are flipping awesome and some knives are flipping duds. Kershaw is getting into the flipping game (knife flipping that is) with the Kershaw Lucha. Kershaw says that this USA-made butterfly knife has "next level" materials and performance. They tell us they designed this knife with "feedback from real flippers." We'll let you be the judge of just how flipping good this knife is, but regardless, Kershaw has jumped wings first into the flipping butterfly knife game.
The Kershaw Lucha features a 4.6″ 14C28N Sandvik steel clip point blade with a stonewashed finish. Kershaw says, "the blade tapers so that the top has more weight to pendulum around smoothly." The opening action is enhanced by dual KVT ball-bearing pivots mounted in the stainless steel handles.
About those handles, Kershaw says, "[they have] a rounded bevel so it rolls effortlessly in the hand. Even the latch is rounded so it never catches as you flip." The bead blast finish on those handles matches seamlessly with the stonewashed blade. The latch on the Kershaw Lucha features a positive stop. That means it's never going to contact the blade.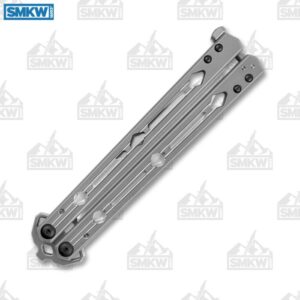 It's a full size butterfly knife that's for sure. It's 10.25″ open, closes down to 5.8″ and weighs in at a substantial 5.9oz. Kershaw says, "This light, fast butterfly knife will jump, fly, and spin in your hands," so watch your fingers flippers and enjoy it.
Kershaw Lucha Details
4.6″ 14C28N Sandvik Steel Clip Point Blade with a Stonewashed Finish.
Dual KVT Ball-Bearing Pivot opening.
Stainless Steel Handles with rounded Bevel and a Bead Blasted Finish.
Comfortable Rounded Bevels on the Handles and Latch.
5.8″ Closed
10.25″ Open
Weighs 5.9oz
Made in the USA
Look, we're no flipping good here at Knife Newsroom, but we love a great looking knife. The Kershaw Lucha is a full-size butterfly knife that fits that bill. If you're interested in learning more about this knife or getting one for yourself, simply click any link in this article or the button below.