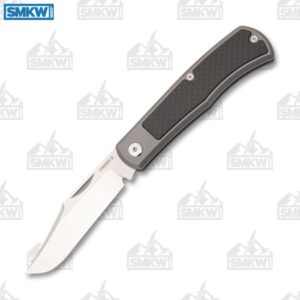 Nothing says "modern slipjoint" quite like the Pena X Bronco.  It's much like a traditional pattern that's been around for awhile but with modern materials and construction. Pena Knives says, "The X Series was born from the desire to bring a collection of production knives to market of the highest quality and tolerances like that of [Enrique Peña's] custom offerings, but at a lower price point."
The Peña X Bronco features a well fitted 3.125" CPM-S35VN clip point blade with blade thickness of 0.12" and a satin finish. The strong backspring makes the nail nick opening stout. It also has very clearly defined half stops and a great snap.
The titanium handles feature torx screws and measure just under 0.5" thick. It's available in four models with different overlays, each of which demonstrates an excellent finish: carbon fiber, desert ironwood, green micarta, and natural canvas micarta. It's 5" closed and weighs 3.85 ounces. It comes with a quality branded leather knife slip.
Click any thumbnail in the following gallery to launch a slideshow of larger images.
Peña X Bronco Details
CPM-S35VN, Satin Finish
3.125" Clip Point
0.12" Blade Thickness
Nail Nick
Half Stops
Slipjoint
Titanium Handles
Carbon Fiber, Desert Ironwood, or Micarta Overlays
Leather Slip
3.85 Ounces
4" Closed
7.125" Overall
For a great example of modern knifemaking with traditional patterns, you can't beat the Peña X Bronco. If you're interested in these knives, click any link in the article or simply click the button below.


All images courtesy of Smoky Mountain Knife Works – smkw.com.