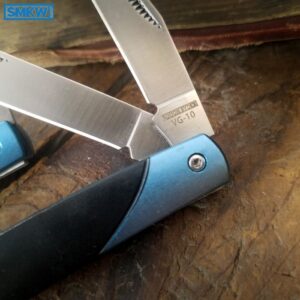 They didn't name the Rough Ryder VG-10 series the VG-10 series just for the heck of it. The knives in this series have VG-10 steel. You read that right. For the first time ever, Rough Ryder now has a high end steel in their knives. Not only that, you can still pick one up for around $20. This is a remarkable price for a higher end stainless steel. Oh, and did we mention these knives also have a thoroughly modern construction? Let's take a look at them.
The knives in the Rough Ryder VG-10 series have brushed satin finish VG-10 blades with half stops and match strike pulls. If you're like us and tend to not keep up with the steel trends, VG-10 was at one time considered a "super steel".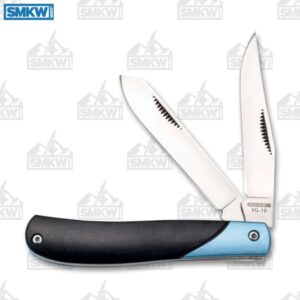 It is a high carbon, high chromium stainless steel with a touch of vanadium and a bit of cobalt. All that means it both takes and holds an edge, and it has very good corrosion resistance. The Mini Trapper has 2.75" clip and spey blades. The Stockman has a 2.625" main clip point blade, and the secondary sheepsfoot and spey blades are about 1.875".
The black and blue aluminum handles feature screw construction and have a sleek, clean look. The knives in this series have stainless steel backsprings, screws, and liners for a thoroughly modern construction. The handle thickness is just under a half inch. Both the mini trapper and the stockman are about 3.5" closed and weigh just over 2 ounces.
Rough Ryder VG-10 Details
VG-10, Brushed Satin Finish
0.09" Blade Thickness
Slipjoint
Half Stops
Match Strike Pulls
Aluminum Handles
0.46" Handle Thickness
Stainless Steel Liners and Backsprings
Screw Construction
2.08oz Carry Weight, Mini Trapper
2.4oz Carry Weight, Stockman
3.5" Closed
The Rough Ryder VG-10 series is an incredibly exciting addition to the Rough Ryder lineup. These knives have an excellent steel, a great look, modern construction, and pocket friendliness all at an affordable price point. You can pick up the Mini Trapper for about $20 and the Stockman for about $22. To get these knives, click any link in the article or simply click the button below.


All images courtesy of Smoky Mountain Knife Works – smkw.com.