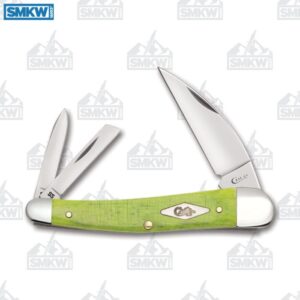 Smoky Mountain Knife Works makes no secret of the fact that it sells more Case knives than just about anybody in the world. Their yearly special factory offering (SFO) lineup is one of the many reasons this is true. The new Case Kiwi Green Sawcut Jigged Bone Series is just one of the many SFO's you'll see from SMKW and Case this year. It's different, gorgeous, and worth the investment.
When they say "Kiwi Green," they mean it with this series. The genuine bone handles are sawcut jigged and dyed an incredibly bright kiwi green. Imagine the green you'd see if you cut open a perfectly ripe kiwi fruit, and then jack the saturation up at least a notch or two. That's the color of the bone handles in this series.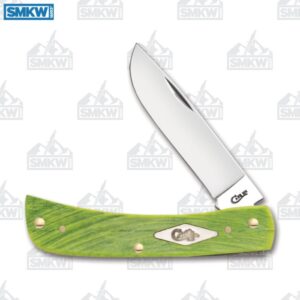 Each of the knives in this series features mirror polished Tru-Sharp blades, nickel silver bolsters, brass pins and liners, and a nickel silver Case XX diamond shield. It looks like there are six patterns available in the series, including the Sodbuster Jr., the Seahorse Whittler, the Medium Stockman, the Trapper, the Small Texas Toothpick and the Muskrat. They range in price from $50 – $70.
Case Kiwi Green Sawcut Jigged Bone Series Details
Mirror Polished Tru-Sharp Blades
Kiwi Green Sawcut Jigged Bone Handles
Nickel Silver Bolsters
Brass Pins and Liners
Nickel Silver Case XX Diamond Shield
6 Patterns Available
Click on any thumbnail below to launch a slide show of images.
If you're a Case collector or you just love the color green, the Case Kiwi Green Series is a great addition to your collection or your pocket. If you're interested in this special offering from SMKW, simply click any link in this article or the button below.