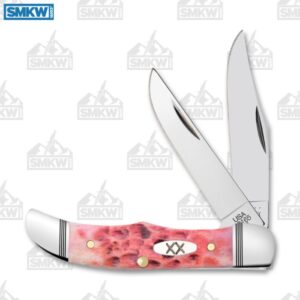 If you've ever eaten fresh raspberries, you know what they do to your hands. Your fingers and everything you've touched turns a rosy, reddish pink color. The handles on the new Case Raspberry Jigged Bone series looks like you've been elbow deep in raspberries and then handled your favorite white jigged bone Case knives. They're raspberry red stained and the color variation in the jigging is gorgeous.
To say this is red is a misnomer. It's more of a blush or a pink. It looks way more like a raspberry stain on the handles than a deep raspberry red color. Regardless, the genuine bone handles on this series look gorgeous, and when you couple them with strike-lined nickel silver bolsters and the XX oval shield, you've got another great collectible from Case.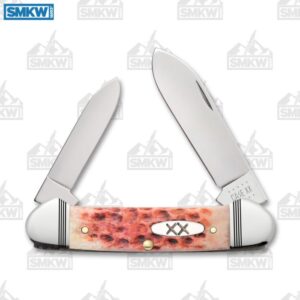 There are six patterns available in this series and all feature mirror-polished, Tru-Sharp steel blades, genuine jigged bone handles with raspberry stain, strike-lined nickel silver bolsters, brass pins and liners, and the XX Oval shield. The six patterns include the Pocket Hunter, the Stockman, the Locback, the Mini Trapper, the Canoe, and the standard Trapper.
Case Raspberry Jigged Bone Series Details
Mirror Polished Tru-Sharp Steel Blades
Raspberry Jigged Bone Handles
Nickel Silver Bolsters with Strike Lines
Brass Pins and Liners
Nicke Silver XX Oval Shield
6 Patterns available in the Series
Click any thumbnail below to launch a slide show of images.
The Case Raspberry Jigged Bone Series ranges in price from $57 – $66 and will certainly be another great collectible series from Case. If you're interested in seeing them all or getting one for yourself, simply click any link in this article or the button below.