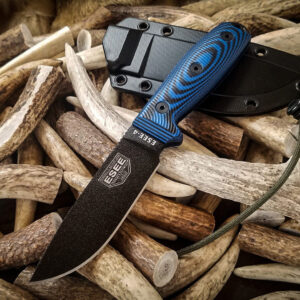 If you love ESEE Knives, you've already heard the buzz surrounding the new ESEE 3D Contoured handle scales. With over thirty models added to their 2020 lineup, there's a veritable rainbow of colors to choose from. There are G-10 or Micarta choices, a ton of blade finishes, and all this is available whatever ESEE model you love. We're taking a look at the ESEE 4PB-008 simply because it's our favorite. The too-long-didn't-read version? We love everything about them. Let's talk about it.
The ESEE 3D 4PB-008 features a bright vibrant blue and black G-10 handle. They're textured with ridges that add slip resistance while still being easy on your hands. There's a gentle palm swell that starts at 0.58" at its skinniest and thickens about 0.87" at its thickest. They're absolutely comfortable in hand.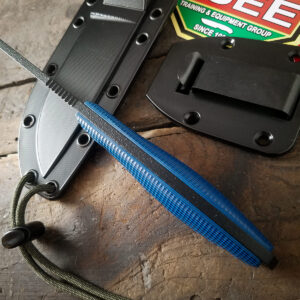 Another nice thing about these handles is the way they've ground the scale edge just past the guard and toward the choil, there's almost a pinch grip. It might not be the truest of the true pinch grips like one would see on a high-end chef's knife, but it functions like a pinch grip and adds a ton of comfort for fine detail work.
It has a 4.5" 1095 drop point blade with a black textured powder coat finish. It is full tang constructed and has a blade thickness of about 0.19". It has an exposed striker tang and lanyard hole. The overall length is 9" and the knife weighs 8 ounces. It comes with a molded plastic sheath and clip plate. As always, these knives come with ESEE's amazing No Questions Asked Lifetime Warranty.
ESEE 3D 49B-008 Details
1095 Carbon Steel, Black Textured Powder Coated
4.5" Drop Point
0.19" Blade Thickness
55-57 HRC
Full Tang
G-10 Handle Scales
0.87" Handle Thickness
1.22" Handle Width
Exposed Tang
Lanyard Hole
Molded Plastic Sheath with Clip Plate
8 Ounces, Knife Only
11 Ounces, Knife Plus Sheath
9" Overall
Made in the USA
We love the new ESEE 3D Contoured Handle models. These American-made knives are seriously outstanding knives from a fantastic company. You can get any one of the new ESEE 4s for just over $100. If you're interested in these knives, click any link in the article or simply click the button to see them all.


All images courtesy of Smoky Mountain Knife Works – smkw.com.