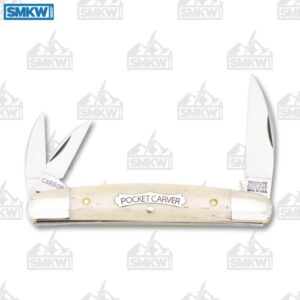 It's no secret that we think Great Eastern Cutlery is clever. They just might be one of the cleverest knife manufacturers in the world right now. With the GEC Pocket Carver, they've taken the 62 frame last seen on the Easy Pocket Congress and turned it into a Whittler. Then they used a blade configuration with the three trendiest blade shapes and used classicly clean handles. All of this is great for both knife collectors and knife users. It's seriously clever and we love it.
Built on the 62 body, the Pocket Carver is a whittler with three 1095 carbon steel Wharncliffe blades. The 2" Wharncliffe stands tall and is supported by both backsprings and has a blade thickness of 0.10". The two secondary Wharncliffes are 1.25" and have a blade thickness of about 0.05". They open with a nail nick and have half stops. The pull on these knives is just about perfect.
The Pocket Carver is available with either white smooth bone handles or with cocobolo handles. The white smooth bone is just about perfect for those who want to dye their bone handles to whatever color suits them best. The cocobolo handles have that warm, rich look we all love about wood handled pocketknives. We also think the choice of the crown shield with "Pocket Carver" is a fantastic and inspired choice for this knife.
GEC 62 Pocket Carver Details
1095 Carbon Steel
2.0" Main Wharncliffe
1.25" Secondary Wharncliffe
0.10" Main Blade Thickness
0.05" Secondary Blade Thickness
Slipjoint
Nail Nick
Half Stops
Brass Pins and Liners
Nickel Silver Bolsters and Shield
White Smooth Bone or Cocobolo Handles
2.12 Ounces
3.75" Closed
Made in the USA
We love the GEC Pocket Carver. They're beautiful and clever as all get out. They make an outstanding addition to any knife collection. If you're interested in these knives, click any link in the article or simply click the button below.


All images courtesy of Smoky Mountain Knife Works – smkw.com.