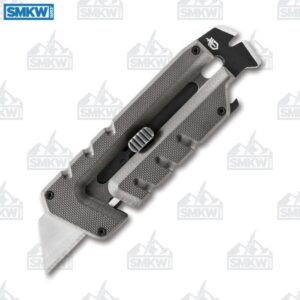 The Gerber Prybrid is like a utility knife but with a ton of functionality. It has a dual-end design that Gerber tells us, "…is meant to be carried in pocket or on a keychain offering immediate access to the 8 tools it house." Best of all, you can pick one up for about $20.
It features black stonewashed full tang construction with either OD Green or Tactical Grey G-10 handle scales. Just like a utility knife, the Prybrid has a standard exchangeable utility blade. To switch the blade, simply push the slider up to its full extension just like you've done a million times on a standard utility knife.
Unlike a standard utility knife, the Prybrid comes with a whole host of other features. On the end opposite of the blade is a sturdy pry bar that doubles as a nail puller. It also has a small and large flathead screwdriver, a wire stripper, and a cord cut out notch. Finally, to pop the top off your favorite end-of-the-day cold one, it has a bottle opener.
The overall thickness of this versatile multitool is about 0.40". It has a closed length of 4.25" and weighs in at a highly respectable 2.9 ounces.
Gerber Prybrid Details
Exchangeable Standard Utility Blade
Full Tang
G-10 Handle Scales, OD Green or Tactical Grey
0.4" Handle Thickness
Pry Bar
Nail Puller
Wire Stripper
Small Flathead Screwdriver
Large Flathead Screwdriver
Bottle Opener
Cord Cut Notch
Lanyard Hole
2.9 Ounces
4.25" Closed
The Gerber Prybrid is a right-sized, handy utility multitool you can get for about $20. If you're interested in this knife, click any link in the article or simply click the button below.


All images courtesy of Smoky Mountain Knife Works – smkw.com.