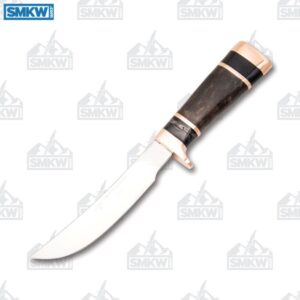 There aren't a lot of knives that can hit both markets, but the 2020 Limited-Edition Buck 907 Expert Hunter just might appeal to both knife users and knife collectors. It's quite simply a beautiful knife. It's clean, elegant and has a fantastic fit and finish. This is part of the Legacy collection designed by David Yellowhorse and made by Buck. It's a limited run of only 250 pieces worldwide. It might be on our top ten list of Favorite Buck Legecy Editions.
In the land of collectible knife art, and in the realm of knife investing, a big consideration is how a knife holds its value over time. Because Buck only makes 250 pieces of these, and because they tend to hit the collector market first, they tend to be hard to find on the secondary. Add in the collectability of David Yellowhorse knives, which sell from between hundreds to in the thousands depending on the design, and you've got an almost surefire winner.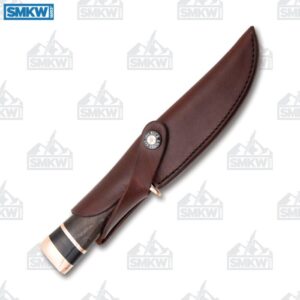 On the user side of the argument, this knife is sturdy and will age like nobody's business. We'd dearly love to see pocket dumps after this knife has been around long enough to develop some patina on both the blade and the handle.
This version of the 907 Expert Hunter has a simple, rich look. It features a stacked walnut, copper, and buffalo horn handle with a copper bolster and a copper guard. It has a flawless fit and finish and an outstandingly smooth feel in the hand.
The 5.125" D2 upswept skinner blade has a blade thickness of 0.175" and a satin finish. It comes with a USA-made brown leather sheath. This serialized limited edition also has a pine slide top collector's box and certificate of authenticity. It's 9.25" overall and weighs 7.6 ounces.
2020 Limited Edition Buck 907 Expert Hunter
D2, Satin Finish
5.125" Upswept Skinner Blade
0.175" Blade Thickness
HRC
Stacked Copper, Walnut, and Buffalo Horn Handle
Copper Bolster and Guard
USA-Made Brown Leather Sheath
Pine Slide Top Collector's Box
Certificate of Authenticity
Serialized Limited Edition
7.6 Ounces
9.25" Overall
Made in the USA
Whether you're a knife user or a knife collector, the 2020 Limited Edition Buck 907 Expert Hunter is a winner. It's a beautiful knife with a fantastic fit and finish, made from exceptional materials, and that will most likely hold its value over time. If you're interested in this knife, click any link in the article or simply click the button below.


All images courtesy of Smoky Mountain Knife Works – smkw.com.