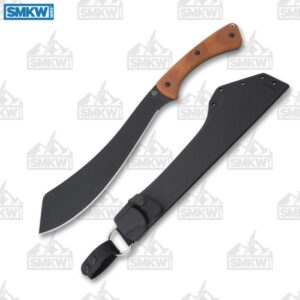 Tyler Pipes, COO of Smoky Mountain Knife Works, designed the TOPS Basecamp Parang to be a rugged outdoor knife. This USA-made parang from TOPS Knives is absolutely that. It's a great knife that will do just about everything you need it to do. Let's look at it.
The Basecamp Parang features an 11.56" 1095 black traction coated carbon steel blade with a blade thickness of 0.19" that's been hardened to a 56-58HRC. It has a forward balance that falls just about perfectly towards the "sweet spot" for chopping. It also has a long, curved slicing edge.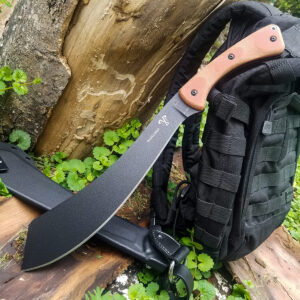 The tan canvas Micarta handles have a great grip without being too abrasive. They're contoured for comfort and at 6.375" long, they're roomy enough for even large hands. It does have a brass lanyard tube for additional security. It comes with a Kydex sheath with a leather dangler attachment. We think the one-directional snap is a nice touch because it ensures your knife stays sheathed, while allowing easy access to the knife once it's unsnapped.
What's the difference between a parang and a machete? Aside from the difference in how it looks, the blade on a parang is a bit heavier, and it's generally more for chopping than slicing. A machete is the tool of choice in South American jungles, and thus it's designed to slice through weedy shrubberies and vines. A parang tends to be more often used in South East Asia where there's more woody areas, thus you need a more effective chopper than slicer.
TOPS Basecamp Parang Details
1095 Carbon Steel, Black Traction Powder Coated
11.56" Parang
0.1875" Blade Thickness
56-58 HRC
Full Tang
Canvas Micarta Handles
Lanyard Tube
Kydex Sheath with Dangler Attachment
1.27lbs
17.94" Overall
Made in the USA
If you're looking for a USA-made outdoors tool that's ruggedly built to last a lifetime, you can't go wrong with the TOPS Basecamp Parang. It's available exclusively through SMKW. To get this knife, click any link in the article or simply click the button below.


All images courtesy of Smoky Mountain Knife Works – smkw.com.