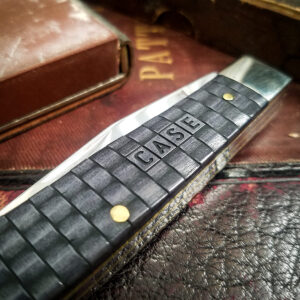 Okay, we'll confess. We weren't wildly enthusiastic about the Case Basket Weave Jigged Bone series until we had it in hand. These things are stinkin' awesome. We've never seen anything like them, and we're impressed.
Case says, "The eye-catching basket weave style captures the alternating light and shadow, complementing a captivating visual experience." They're not wrong. At first glance these knives look like almost a gradient screen print on smooth bone handles. It's not. It's a seriously cool jigging pattern that results in an awesome tiled texture with an amazing look.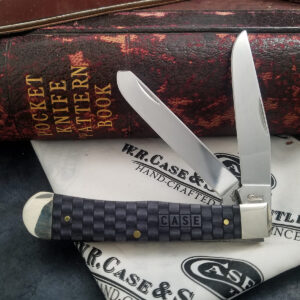 Each knife in this series has mirror polished Tru-Sharp surgical steel blades. They also have brass pins and liners, as well as mirror polished nickel silver bolsters. This series is available in three different colors (Turquoise, Merlot, and Charcoal) and three different patterns (Trapper, Mini Trapper, and Medium Stockman.)
Click any thumbnail in the following gallery to launch a slideshow of larger images.
Case Basket Weave Jigged Bone Series Details
Tru-Sharp Surgical Steel, Mirror Polished
Slipjoint
Nail Nick
Basket Weave Jigged Bone Handles
Brass Pins and Liners
Nickel Silver Bolsters
Made in the USA
The Case Basket Weave Jigged Bone series is literally something new in the traditional slipjoint world, which is awesome and well worth a look or three. We were seriously impressed with them. To get any of the knives in this series, click any link in the article or simply click the button below.


All images courtesy of Smoky Mountain Knife Works – smkw.com.