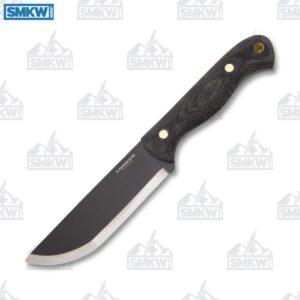 Julio Diez designed the Condor SBK (straight back knife) and man alive is it nice. It's got a good working, thick Micarta handles, and a sheath that is fully ambidextrous and adjustable to how you want to carry your knife.
The most awesome part of the Condor SBK, and what really sets it apart from the rest of the bushcraft and survival knives is the sheath. It comes with a Kydex sheath that is initially set up for right-side, hip carry. However, it's easily adjustable for lefties. Not only that but with the ingenious set up you can easily configure this sheath for scout carry. You can even adjust it so it's left-handed scout carry by simply switching up the straps. The Condor SBK is quite possibly one of the most versatile sheaths we've seen this year.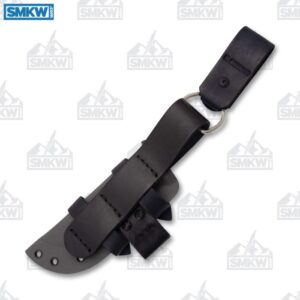 The Condor SBK has a 5.28" 1075 carbon steel blade with a Scandi grind and a black traction powder coating and a blade thickness of 0.125". 1075 is a high carbon steel. It has a tiny bit less carbon (the chemical that makes iron harden-able) than 1095. This really isn't a bad thing. The same reason you picked a thin, whippy switch only once (and never again) when Grandma told you to go pick out a switch is the same reason a softer steel can take more abuse. The more something bends, the less likely it is to break. The downside of a softer steel is that it doesn't hold an edge as long as a harder steel. However, we've heard you can almost sharpen this steel on a coffee cup.
It features full tang construction and has black canvas Micarta handles secured with brass rivets. The 5.2" handle is contoured for a comfortable grip with very few hotspots that we could find. It has an overall length of 10.5". The knife and sheath weigh about 15 ounces.
Condor SBK Details
1075, Black Traction Powder Coated
5.28" Straight Back Blade
Scandi Grind
0.125" Blade Thickness
Full Tang
Micarta Handles
Brass Rivets and Lanyard Tube
Fully Adjustable Kydex Sheath
15.7 Ounces
10.48" Overall Length
The Condor SBK is a fanatic knife with a seriously adaptable sheath that's built to last a lifetime. To get this knife, click any link in the article or simply click the button below.


All images courtesy of Smoky Mountain Knife Works – smkw.com.