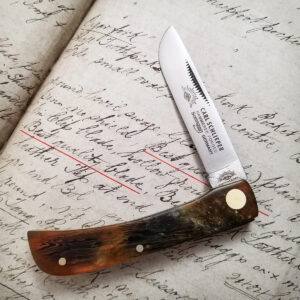 The Eye Brand Clodbuster Jr is super sturdy and light in your pocket. As we've previously written, Eye Brand is an old knife manufacturer that's been building knives in Solingen, Germany for just about ever. While we've looked at the full-sized Clodbuster before, we missed telling you about their smaller, less expensive version. You can pick up any of these knives for $47 or less.
The Clodbuster Jr. is a simple work knife that's meant to be used. It features a 2.875" carbon steel straight back blade with a satin finish. It opens with a match strike pull. In addition to the modern aesthetic love of a patinaed blade, carbon steel is widely known as a tough steel that easily takes a razor-sharp edge.
There are four different handles available in the Clodbuster Jr. – a traditional yellow composition, wood, black composition, and caramel swirl. Our favorite of these is the caramel swirl. It has something of the look of the old tortoise shell handles with the added durability of modern polymer durability. All the handles have brass pins and liners. They're each about 3.75" closed and generally weigh about 2 ounces.
Click any thumbnail in the following gallery to launch a slide show of larger images.
Eye Brand Clodbuster Jr Details
Carbon Steel, Satin Finish
2.875" Straight Back
0.06" Blade Thickness
Match Strike Pulls
Slipjoint
Composition or Wood Handles
Brass Pins and Liners
3.75" Closed
6.625" Overall
Made in Solingen, Germany
The Eye Brand Clodbuster Jr makes a great work knife. At $47 or less, it's a fantastic addition to any pocketknife collection. To get this knife, click any link in the article or simply click the button below.


All images courtesy of Smoky Mountain Knife Works – smkw.com.