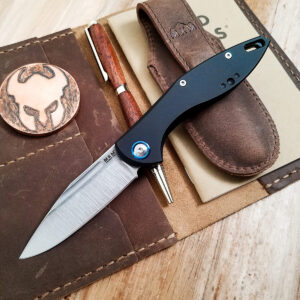 Have you seen the MKM Burnley Fara? It's designed by Lucas Burnley and made by Mercury Knives in Maniago, Itay. This thing is seriously sweet. With its sleek, sexy lines it looks just stunning. Not only that, the build is outstanding, and it has one of the coolest sheaths we've ever seen. Let's look at it.
First, in case you've never heard of MKM they're a consortium of cutlery manufacturers and makers in the Maniago area including Fox, Viper, Mercury, and Lionsteel that have turned out award winning, high quality knives. Mercury has been making knives for generations and they make some seriously nice ones like the Fara.
This knife is a sleek, modern slipjoint with a slim build. It features a 2.99" M390 stainless steel clip point blade with a blade thickness of 0.12". It has a crowned spine with a straight pull and there's plenty of room to use a pinch grip. It has clearly defined half-stops with a fantastic walk and talk. The action is super smooth because it uses PTFE (Teflon type) washers in the pivot. Although the PTFE pivot ensures a smooth, easy opening, there's enough détente that you need not overly fear for your digits.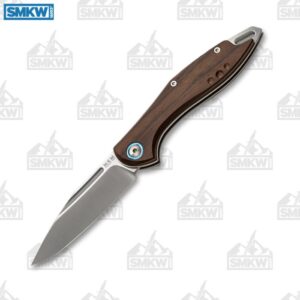 The handles are about 0.44" thick and have a smooth, comfortable grip. The fit and finish on this knife is simply stellar. It's available with four different handle scales – Titanium, Santos Mahogany, Olive Wood, and Aluminum. It has a generous lanyard slot for attachments. It's 4.02" closed and weighs between 2.54 and 3.21 ounces.
The Burnley Fara does not have a pocket clip. Instead, it comes with a high-quality leather sheath with a belt loop attachment. Now, before you get bored reading about leather sheaths with belt loop attachments, this is not your ordinary sheath. It's seriously cool. It's a magnetic clasp sheath. It works sort of like a snap but it's so very easy. There's absolutely no fumbling or fidgeting required. Seriously, we love this sheath so much we took it around the building to show off its incredible coolness.

MKM Burnley Fara Details
M390, Satin Finish
2.99" Clip Point
0.12" Blade Thickness
58-60 HRC
Slipjoint
Screw Construction
Long Pull
PTFE Washer Pivot
Half Stops
Titanium, Wood, or Aluminum Handles
Lanyard Slot
Leather Sheath with Magnetic Clasp Belt Loop Attachment
2.54 to 3.21 Ounces
4.02" Closed
7.01" Overall
Made in Maniago, Italy
The MKM Burnley Fara is a beautiful knife with an outstanding fit and finish, made with quality materials. If you're interested in this knife, click any link in the article or simply click the button below.


All images courtesy of Smoky Mountain Knife Works – smkw.com.