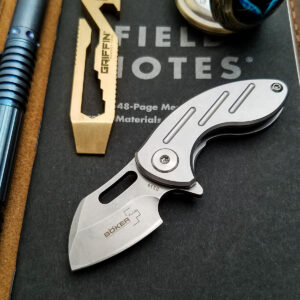 Designed by David Curtiss, the Boker Plus Piko is a little bitty but mighty daily carry. It has a solid lockup and a fast action. You can pick one up for about $34.
The Piko features a 1.38" stonewash finished 440C modified sheepsfoot blade with a blade thickness of 0.11" and a convex grind. It has a thumb hole cutout as well as a flipper. We were quite honestly stunned with the fast action on this tiny knife. It might not have that big, beefy thwack sound but it's little snick is not only oddly satisfying it is just as smooth, fast, and easy open as it's bigger brothers.
This framelock has contoured 2.16" stainless-steel handles with a seriously interesting feel in hand. It has a small finger choil and a thumb ramp. It basically a two-finger grip, even in small hands. It's possibly one of the most comfortable two-finger grips ever because of the way the handle is shaped and the overall balance of the knife.
It has an open frame construction with a single barrel spacer and lock up is rock solid. At a weight of about 1.5 ounces, it practically disappears in your pocket.
Boker Plus Piko Details
440C, Stonewash Finish
1.38" Modified Sheepsfoot
0.11" Blade Thickness
Convex Grind
Flipper or Thumb Hole Opener
Framelock
Stainless Steel Handles
1.52 Ounces
2.16" Closed
3.54" Overall
If you like super small knives, you will love the Boker Plus Piko. It's an extremely well-designed budget folder you can get for about $34. To get this knife, click any link in the article or simply click the button below.


All images courtesy of Smoky Mountain Knife Works – smkw.com.