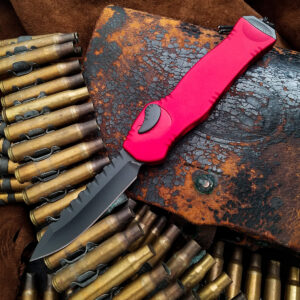 If you haven't yet handled the Heretic Hydra, it might be one of the most secure out-the-front automatics on the market. The only way the blade can be deployed is on purpose. If you leave the trigger plate on the knife, you need never fear an accidental deployment. One of the favorite adjectives used to describe this knife is "powerful." Holy wow, that is not a hyperbolic claim.
This knife is fast. It opens with absolute authority. When we slid the titanium trigger cover over and pushed the button, we were frankly surprised at the speed and power with which the 3.625" CPM S35VN blade opened. Its design is such that it also won't be thrown off track by a mere piece of paper. That 0.157" thick blade will slide right through a piece of paper without even bothering to sneer. There's also filework along the spine and a cutout near the tip for a wicked look.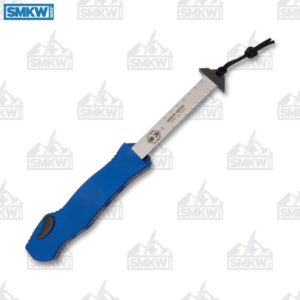 The 0.47" thick aluminum handles on this knife have a supremely comfortable, and surprisingly slip resistant grip. They're curved and jimped in such a way that it feels good in hand no matter how you're holding it. Lock up is outstanding. To retract the blade, push the button and pull out the charging handle. Let go of the button and slide the carbon fiber charging plate to its original position. This resets the spring and mechanism and allows you to rinse and repeat that stunningly fast opening action.
For increased security and easy use, this knife has an included lanyard and built in lanyard hole. It also has a two prong, tip-down pocket clip.
The Hydra is available in many different blade profiles and finishes, as well as about four different handle colors. It's 5.3" closed, 9" overall, and weighs about 5.2 ounces
Heretic Hydra Details
CPM-S35VN
3.625" Blade Length
0.157" Blade Thickness
 Single Action Push Button OTF
Aluminum Handles with Charging Plate
0.47" Handle Thickness
Titanium Trigger Plate
Carbon Fiber Charging Plate
Two Prong Tip-Down Pocket Clip
Integrated Lanyard
5.3" Closed
9" Overall
Made in the USA
The Heretic Hydra is a wicked looking single action OTF that's lightening fast. It's available in a wide variety of styles and makes an outstanding addition to any knife collection.


All images courtesy of Smoky Mountain Knife Works – smkw.com.