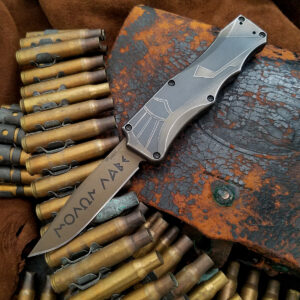 If the historical image of pithy Spartan warriors facing off a giant invading army intent on enslaving the masses, this is absolutely the knife for you. The Hogue Sig Saur Outlaw Ordnance Spartan OTF is a new SMKW Exclusive SFO and it's simply sticking awesome. They've taken the Exploit model made by Hogue for Sig Sauer and gave it a hardcore customization overhaul from Outdoor Ordnance. Basically, it's a giant collaboration between a ton of huge names in the 2A world. The Hogue Sig Outlaw Ordnance Spartan OTF takes a basically badass knife with a fast, reliable action to a whole new level of cool.
This knife has a CPM S30V clip point blade with a blade thickness of 0.125" and a Flat Dark Earth (FDE) Cerakote finish. Inscribed on the blade is "Molon Labe" which is ancient Greek for "Come and take [them]!"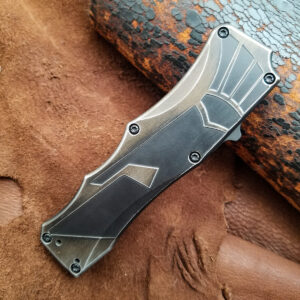 This what King Leonidas I told Xerxes before the Battle of Thermopylae after Xerxes offer safe passage if they would lay down their arms.
Both the front and back 6061-T6 hard anodized aluminum handle on this dual action OTF feature a distressed, iconic Spartan helmet laser engraved from Outlaw Ordnance. In case you're unfamiliar with their work, Outlaw Ordnance is a family owned custom Cerakote and engraving shop based in West Monroe, Louisiana. The work done on this knife is simply outstanding. It has an ambidextrous, tip-down pocket clip. It's 4.8" closed and weighs about 4 ounces.
Hogue Sig Sauer Outlaw Ordnance Spartan OTF Details
CPM S30V, Flat Dark Earth Cerakote Finish
3.5" Clip Point
0.125" Blade Thickness
58-61 HRC
Cryogenically Heat Treated
Laser Etched
Dual Action Out the Front Automatic
Ambidextrous Trigger
6061-T6 Hard Anodized Aluminum Handles
Custom Laser Etched
Ambidextrous Tip-Down Pocket Clip
4 Ounces
4.8" Closed
8.3" Overall
Made in the USA
The Hogue Sig Sauer Outlaw Ordnance Spartan OTF is a badass knife inspired by a badass history. Supplies on this knife are limited and available exclusively through Smoky Mountain Knife Works. Make sure you get yours before they're gone.


All images courtesy of Smoky Mountain Knife Works – smkw.com.