The Ontario Knife Company has been making knives in Cattaraugus County for 125 years. They make simple quality knives at an affordable price. The OKC Bushcraft Utility Knife is no exception.
It features a 4" alloy carbon steel clip point blade with a blade thickness of 0.11" hardened to 53-55 HRC. Before we go any further, what do they mean "alloy carbon steel"? Is it carbon steel or isn't it? Well, the simplest answer is "yes". It can be considered like a carbon steel, but it isn't a "true" carbon steel. There are several steels that look and act like carbon steel, and that most people consider carbon steel, that are not technically carbon steels according to the AISI (American Iron and Steel Institute) standards. For instance, 5160 and 52100 both look and act like carbon steel, but they're technically an alloy steel. For most people, the difference between an alloy carbon steel and carbon steel is a tuh-may-toe/toe-mah-toe thing.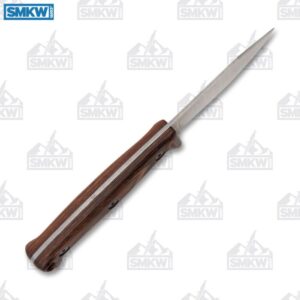 The full tang handle has laminated hardwood scales attached with screws. Because we've gotten an email about this before, generally, laminated hardwood merely means the wood is like plywood (cross-grained layers) rather than like Pergo. The handles on this knife are not only pretty, they're super durable and have a nice feel in hand.
It has a generous lanyard hole for attachments and comes with a nylon sheath. It's 9.3" overall and weighs about 6.4 ounces.
OKC Bushcraft Utility Knife Details
Alloy Carbon Steel, Satin Finish
4" Clip Point
Fixed Blade
Full Tang
Laminated Hardwood Handle
Lanyard Hole
Nylon Sheath
6.42 Ounces
9.3" Overall
Made in the USA
The OKC Bushcraft Utility Knife is a good knife with a simple build that's made in the USA. To get this knife, click any link in the article or simply click the button below.


All images courtesy of Smoky Mountain Knife Works – smkw.com.