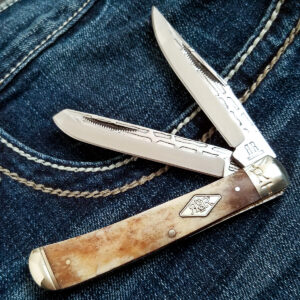 The Rough Ryder Heavy Forge Trapper is a new series in the Rough Ryder lineup. This budget friendly slipjoint is an exciting expansion of Rough Ryder's classic carbon lineup. It has a great look and a budget friendly price of about $15.
The new Heavy Forge series features embellished T10 blades with a mirror polish and a beefy blade thickness of 0.11". T10 is a high carbon, tungsten alloy steel with little chromium. It is technically a high-speed tool steel that is often used in swords. It will patina like carbon steel and it does require a bit of attention and care to prevent rust and corrosion. The knives in this series have half stops and match strike pulls.
The handles are a mottled brown smooth bone which look a bit like the Appaloosa series. They all have nickel silver Slant 'R bosters and the RR Diamond shield. The trapper is 4.125" closed and weighs about 4.32 ounces.
Rough Ryder Heavy Forge Trapper Details
T10, Embellished Mirror Polish
3.125" Clip and Spey Blades
0.11" Blade Thickness
Slipjoint
Smooth Bone Handles
Brass Pins and Liners
Nickel Silver Slant 'R Bolsters and RR Diamond Shield
4.32 Ounces
4.125" Closed
The Rough Ryder Heavy Forge Trapper has a beefy build, a great look, and high carbon alloy blades. At about $15, it's good knife for a great price. As always, Rough Ryder is built by hand and backed for life. To get this knife, click any link in the article or simply click the button below.


All images courtesy of Smoky Mountain Knife Works – smkw.com.