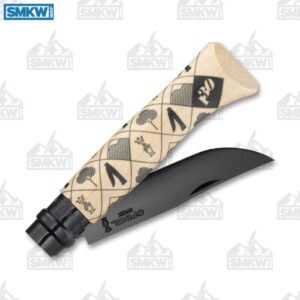 Why is the 130th Anniversary Opinel No 8 a must-get knife? There are a bunch of reasons. First, and most obviously, this is simply a beautiful knife. Not only that, for a serialized, limited edition from a storied brand, it's reasonably priced at under $50. This time next year, when we post it in our groups, people will probably ooh and ahh and be jealous because they missed out on it. (Collector's love it when you do that, by the way.) Speaking of which, there are maybe two knife brands you can put in any pocket dump anywhere on the internet without someone saying something negative. One of those two brands is Opinel.
To celebrate their 130th Anniversary, Opinel took the No. 8 and gave the 3.28" stainless-steel clip point blade a black anodization which matches the black anodized Virobloc collar. It's paired with an elegantly embellished French hornbeam handle. As always, the No 8 is 4.31" closed and it weighs about 1.6 ounces.
130th Anniversary Opinel No 8 Details
Sandvik 12C27 Stainless Steel, Black Anodized
3.28" Clip Point
0.625" Blade Thickness
Nail Nick
Black Anodized Virobloc Locking Collar
Embellished French Hornbeam Handle
1.6 Ounces
4.31" Closed
7.59" Overall
Made in France
You can pick up the 130th Anniversary Opinel No 8 for about $49. This serialized, limited edition knife that makes an outstanding addition to any knife collection. To get this knife, click any link in the article or simply click the button below.


All images courtesy of Smoky Mountain Knife Works – smkw.com.