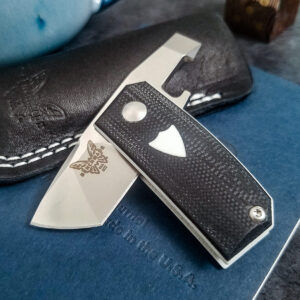 The new Benchmade Tengu Tool is another hit design from Jared Oeser. The 602 Tengu has the same aesthetic appeal as it's modern flipping big brother, but it's a smaller, multi-use friction folder.
The Tengu Tool has a 1.14" CPM 20CV tanto blade with a satin finish and a beefier than expect blade thickness of 0.124". This added mass comes in handy because the tang opener also has a cap lifter and pry tip.
Like the 601, this knife has slim, contoured black and white G-10 handles with an open back construction and a traditional shield for a fantastic, traditional look. It's 2.14" closed and the knife alone weighs just over an ounce. Combine the knife's small size with the included soft, black leather slip and the whole kit practically disappears in your pocket.
Benchmade Tengu Tool Details
CPM 20CV, Satin Finish
1.14" Tanto
0.124" Blade Thickness
59-61HRC
Friction Folder
Cap Lifter/Pry Tip
Layered G-10 Handles
0.4" Handle Thickness
Knife Weight 1.04 Ounces
Slip Weight 0.28 Ounces
2.14" Closed
3.27" Overall
Made in the USA
The Benchmade Tengu Tool is another interesting design from Jared Oeser. It's a handy multiuse, friction folding tool that practically disappears in your pocket. If you're interested in this knife, click any link in the article or simply click the button below.


All images courtesy of Smoky Mountain Knife Works – smkw.com.