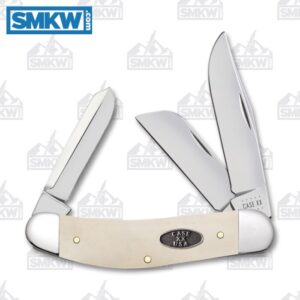 With Carbon steel blades and natural smooth bone handles, the Case Natural Smooth Bone CV series is everything the internet has been demanding. They look fantastic, and they're going to be available in several less-common patterns. Case assures us it's headed our way soon and we can't wait!
One of the reasons white smooth bone has been so in demand is they're easily dyeable, making them customizable. That means they each have the potential to be unique to you. All the knives in this series feature white smooth bone handles mounted on brass liners and secured with brass pins. We love that they used the Pewter Case shield on these because it just gives it a modern look.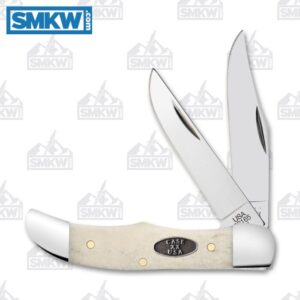 Each knife in this series also features mirror polished CV steel with a mirror polish. This is Case's version of carbon steel. It looks and behaves exactly like carbon steel, but the reason they can't call it carbon steel is because it has added vanadium which, by definition, means it can't be labelled as carbon steel. With a bit of care, it will develop a beautiful patina which not only makes the knives look uniquely fantastic, it also protects the blade from rust.
This series will be available in the following seven patterns: Half Whittler, Trapper, Kickstart Mid-Folding Hunter, Mini Copperlock, Kickstart TrapperLock, Sowbelly Stockman, and Pocket Hunter. The Half Whittler, Trapper, Sowbelly Stockman, and Pocket Hunter are all traditional slipjoints that open with nail nicks. The Mini Copperlock is a lockback with a straight pull. The Kickstart Mid-Folding Hunter and TrapperLock are both assisted opening linerlocks with a reversible thumb stud and a tip-down pocket clip.
Case Natural Smooth Bone CV Series Details
Chrome Vanadium (CV) Steel, Mirror Polished
White Smooth Bone Handles
Brass Pins and Liners
Nickel Silver Bolsters
Case Pewter Shield
Made in the USA
The Case Natural Smooth Bone CV series is an exciting new addition to the Case lineup, and it's headed to dealers soon. If you're interested in the knives in this series, after you click any link in this article. Hit the "Notify Me" button on the knife you're interested in and enter your email address. As soon as it comes in stock, SMKW will send you an email letting you know it's in stock.


All images courtesy of Smoky Mountain Knife Works – smkw.com.