The CRKT Parascale is an outstanding knife with a tremendous lockup. It's also a great way to get into customizing your knife. The paracord wrap is designed so you can easily change out the cord to whatever style suits you most. There's even a step-by-step video from designer TJ Schwarz who walks you through the entire process.
Even without the exchangeable paracord wrap, the Parascale is a danged fine knife. It features a 3.19" D2 drop point blade with a blade thickness of 0.13". It has a fairly long slicing edge and enough reinforcement to make it a serviceable chopper. There's also jimping along the thumb ramp for added security when you need to choke up on your knife. It's a manual thumb stud opener with an IKBS ball bearing pivot for a fast, reliable action.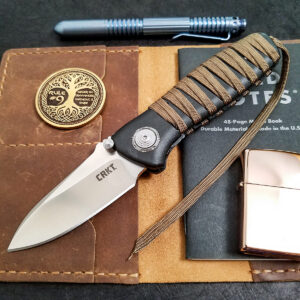 Lockup is, of course, unquestionably good with this knife. In our humble opinion, the deadbolt technology is one of the leading locks the industry right now. The glass-reinforced nylon (GFN) handles are comfortable in hand and the paracord wrap increases that comfort by no small amount. It also increases slip resistance in both wet and dry conditions.
CRKT tells us, "If you're wondering why you've never seen a paracord-wrapped folder before, it's because you probably haven't—unlike a frame lock or liner lock, Deadbolt only impacts the pivot, making the Parascale™ a highly useful outdoor folding companion." You can remove the paracord from the knife in one piece, without affecting your knife. Which would be handy in case of emergency.
At 4.68" closed, there's plenty of room for a good grip even in larger hands. It has a tip-up pocket clip. It's 7.88" overall, and weighs about 5 ounces.
CRKT Parascale Details
D2, Satin Finish
3.19" Drop Point
0.13" Blade Thickness
Manual Folder
Ambidextrous Thumb Studs
IKBS Ball Bearing Pivot
Paracord Wrapped GFN Handles
Deadbolt Lock
Tip-Up Pocket Clip
5 Ounces
4.68" Closed
7.88" Overall
The CRKT Parascale is a great knife with a solid lock up and a ton of utility. To get this knife, click any link in the article or simply click the button below.


All images courtesy of Smoky Mountain Knife Works – smkw.com.