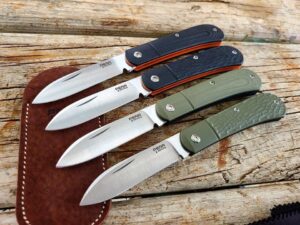 There are two new Pena X Series series of knives in town. One is a thumb stud opening version of the Mula. The other is an updated version of his slip joint with G-10 handles and a spear point blade. They're both built by Reate, and they're all about simplicity, style, and sheer excellence.
Knife maker Enrique Pena started out as a custom slipjoint maker. He took traditional styles and modernized them with some fantastic materials, looks, and functionality. If you look closed, even his modern folders like the Mula still have a hint of a traditional slippie to them.
Pena X Series Mula
The Pena X Series Mula is one of the most wildly sought-after knives on the market. If you missed out on the front flipper iteration, or if front flippers just aren't your thing, check out the new thumb stud framelock. It features a 3.25" M390 drop point blade with a blade thickness of 0.14" and a satin finish. It rides on a caged ball bearing pivot and the flicking action is, of course, stellar.
It's a framelock with titanium handles that a handle thickness of 0.53", a closed length of 4.375", and a handle width of 0.875". There's plenty of room for a good grip. The fit and finish is exceptional. It has a tip-up pocket clip and weighs about 4.05 ounces. This knife is a straight up work horse that will absolutely last a lifetime.
Pena X Series Mula Details
M390, Satin Finish
3.25" Drop Point
0.14" Blade Thickness
Flat Grind
Ambidextrous Thumb Studs
Caged Ball Bearing Pivot
Framelock
Titanium Handles
0.53" Handle Thickness
Tip-Up Pocket Clip
4.05 Ounces
4.375" Closed
7.625" Overall

Pena X Spear Point Slipjoint
When we first saw the new Pena X Spear Point slipjoints, we were blown away. These thoroughly modern slipjoints have a fantastic walk and talk and a superior fit and finish. This new model is available in four different knives. The OD Green model comes with a black G-10 insert, one is jigged the other is smooth G-10. The black version has an orange G-10 insert, and again, one is jigged and one is plain. They each have screw construction. As always, each knife comes with a quality leather slip.
They all have a 3" M390 spear point blade with a satin finish and a blade thickness of 0.125". They all have half-stops and open with a nail nick. They have a closed length of 3.875″ and weigh about 2.2 ounces.
Pena X Series Spear Point Slipjoint Details
M390, Satin Finish
3" Spear Point
0.125" Blade Thickness
Slipjoint
Half Stops
Nail Nick Opener
G-10 Handles
Screw Construction
0.47" Handle Thickness
Leather Slip
2.2 Ounces
3.875" Closed
6.875" Overall

Pena X Series knives are always collectible and always sell out quickly. If you're interested in these knives, make sure you get yours before they're gone by clicking any link in the article or simply clicking the button below.


All images courtesy of Smoky Mountain Knife Works – smkw.com.