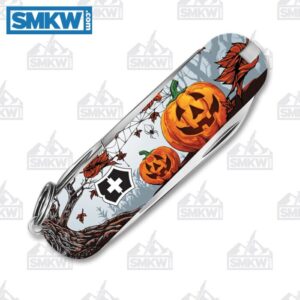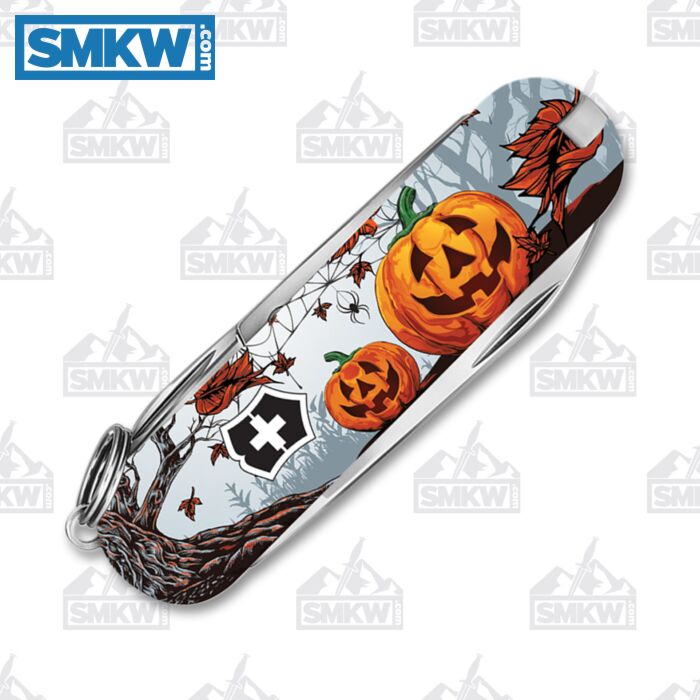 We know summer isn't over yet, but we're so ready for fall that the mere sight of the 2020 Happy Halloween Classic SD made us happy. We saw it, closed our eyes and pretended it was a crisp brisk fall day with crunching leaves and pumpkin spice everything was on the menu.
The 2020 Halloween Classic SD is a different take than we've seen before. In case you need the reminder, the 2018 version was a Burton-esque Halloweentown. The 2019 model was all about the witchy-ness. This year, it's a lighter and brighter Halloween. On the front handle, there's a couple of artfully cheery Jack o' Lanterns bracketed by a slightly spooky (and beautifully detailed) tree with fall leaves.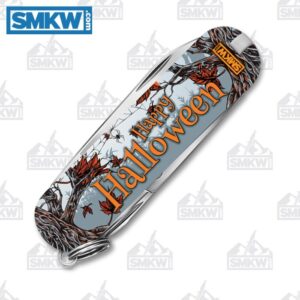 In the background, you get just a hint of a spider making it's Charlotte-type web. All this is imprinted on a lighter than normal blue-grey background. The back handle It's quite lovely and just the thing we needed as a break from all things hot, humid, and summer.
As always, the Classic SD has 1.5" mirror polished stainless-steel pen blade. It also has a nail file with a screwdriver tip and scissors. It, of course, also comes with a toothpick, tweezers, and a key ring attachment. It's 2.25" closed and weighs less than an ounce.
2020 Happy Halloween Classic SD Details
Stainless Steel, Mirror Polished
1.5" Pen Blade
Imprinted Composition Handles
Scissors
Nail File with Screwdriver Tip
Toothpick
Tweezers
Key Ring Attachment
0.8 Ounces
2.25" Closed
3.75" Overall
Made in Switzerland
The Halloween knives are our favorite knives of the year, and the 2020 Happy Halloween Classic SD is no exception. For about $17, they are the perfect addition to every pocketknife collection and they're available exclusively at SMKW. To get this knife, click any link in the article or simply click the button below.


All images courtesy of Smoky Mountain Knife Works – smkw.com.