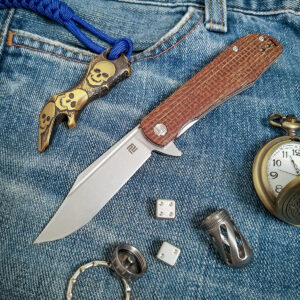 You've absolutely want to check out the new SMKW exclusive brown burlap micarta Artisan Hyperion. It's basically the same knife as the 1834 designed by Darriel Caston of D Rocket Designs that we fell in love with last year. However, this version is smaller, lighter, and more pocket friendly. Oh, and did we mention this one has brown burlap micarta handles? It does.
Seriously, this thing practically disappears in your pocket much like a Leek. This iteration of the Hyperion is about 3.57" closed and weighs about 2.57 ounces. That means it's more than an inch smaller and about an ounce and a half lighter. It still has an ambidextrous tip-up pocket clip and a small lanyard slot in the anodized orange backspacer.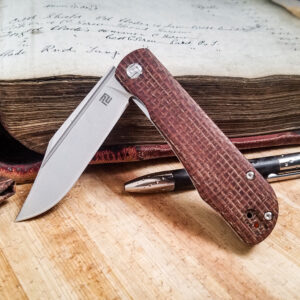 Mounted on stainless steel liners, the brown burlap micarta handle scales look great. They've got a kind of soft feel to them but there's still that helpful little bit of slip resistance.
The 1834 is a manual flipper with a 3" stonewash finished D2 clip point blade that rides on ceramic bearings and a blade thickness of about 0.11". It has a fuller that runs almost the length of the blade. The fuller is much like a long pull on a traditional slipjoint and it can be used the same way. But, with a touch of practice and holding your hand just right, you can also flick fuller or pinch grip the fuller. Why mess with flicking when flipping is so much easier? It's a party trick and why not!
Brown Burlap Micarta Artisan Hyperion Details
D2, Stonewash Finish
3" Clip Point
0.11" Blade Thickness
Flipper with Ceramic Ball Bearings
Linerlock
Burlap Micarta Handle Scales
Stainless Steel Liners
Anodized Orange Backspacer
Ambidextrous, Tip-Up Pocket Clip
Lanyard Slot
2.57 Ounces
3.75" Closed
6.75" Overall
The smaller, lighter, and pocket friendlier brown burlap micarta Artisan Hyperion is an all-around great knife. It's available exclusively at SMKW. To get this knife, click any link in the article or simply click the button below.


All images courtesy of Smoky Mountain Knife Works – smkw.com.