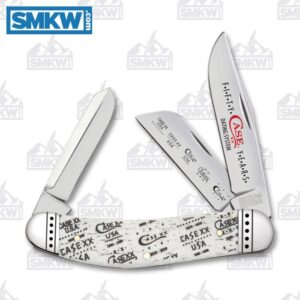 It's been 50 years since Case started the Dot Dating system and SMKW is celebrating with the Case 50th Anniversary Dot Dating System series. There are six knife patterns in this series plus one brass Zippo, just for good measure. What's so great about the dot dating system? Well, it immediately lets the buyer know when their knife was made. It also helps weed out a few of the fakes.
As early as, and most likely before, the 1950s there was counterfeit Case knives were a problem. If you read some of the early Ferguson "Romance of Collecting Case Knives" books, you'll be treated to a discussion on the problems of counterfeits and how to spot some of them. These days, you have entire books devoted to "spotting the fakes" and collectors have developed a keen eye for details. One of the things that helps is knowing the patterns and when they were released. For instance, if the tang says it's pattern 6488, and it has 10 dots with a lightening "S" and the ad says it's a 1970 ten-dot congress with stag handles, well, it's a fake. It might be a pretty fake that looks old but it's a fake.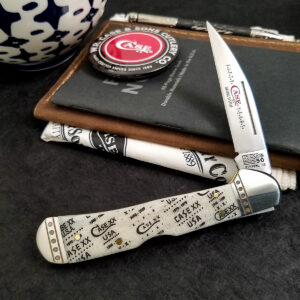 Whew, let us just climb down off our soapbox for a minute to talk about these definitively-not-fake knives and what's awesome about them. In addition to being really pretty, highly collectible knives the knives in this series have a hidden benefit for those who might be less than hardcore Case collectors. This is, quite possibly the most pocket friendly and easily accessed reference material in existence when looking at Case knives from 1970 to now.
The white smooth bone front handle is etched with all five decades' tang stamps. This handle also has ten dots engraved on the front bolsters. The back (or pile side) handle and back bolsters are left unadorned.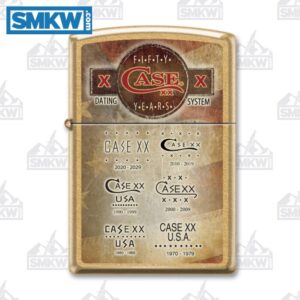 The mirror polished, Tru-Sharp surgical steel blades are laser etched and feature the 50th Anniversary tang stamp which is also available exclusively from SMKW. The main blade has a Case logo etch. Etched on the secondary blades are all five decades' tang stamps.
This series is available in the following patterns: Trapper, Copperlock, Canoe, Sowbelly, Cheetah, and Tribal Lock. There's also a commemorative Gold Dust Zippo etched with all of the official Case tang stamps from 1970-2020.
Click any thumbnail in the following gallery to launch a slideshow of larger images.
Case 50th Anniversary Dot Dating System Series Details
Tru-Sharp Surgical Steel, Mirror Polished
50th Anniversary Tang Stamp
Laser Etched Main and Secondary Blade
White Smooth Bone Handles, Etched Front Handle
Nickel Silver Bolsters, Ten Dot Engraved on Front Bolster
Brass Pins and Liners
Made in the USA
The knives in the Case 50th Anniversary Dot Dating System series make a great gift and a fantastic addition to any pocketknife collection. This series is available exclusively at SMKW. Supplies are limited so make sure you get yours before it's gone. If you're interested in these knives, click any link in the article or simply click the button below.


All images courtesy of Smoky Mountain Knife Works – smkw.com.