With the Cold Steel Pendleton Mini-Hunter, Cold Steel has taken a beloved hunting knife and made it as small as possible without losing functionality. It's not just a hunting knife, it's small enough and light enough to be an unobtrusive EDC. For the price, you just can't beat it.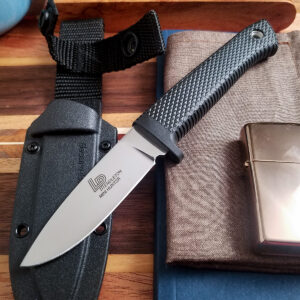 The Pendleton Mini-Hunter features a 3" VG-1 stainless steel drop point blade with a blade thickness of 0.12". It's flat ground and, of course, razor sharp straight out of the box. No matter what you've read on the internet, VG-1 and VG-10 are not the same steel. VG-1 is a solid budget steel that takes a good edge and does a fair job of keeping it. Is VG-10 a better steel? Probably. However, it's generally not considered a budget steel. Price versus quality is almost always a trade off, and we think it's the appropriate choice for this knife. It's a good steel, at a great price.
The Mini-Hunter has a full tang and a rubberized over-mold handle. It's incredibly slip-resistant and comfortable even after extended use. The handle length is about 3.6" which gives you a nice grip. It has a generous lanyard hole which would extend that grip just a bit more. It comes with a versatile Secure-Ex sheath. It's 6.625" overall and weighs about 2 ounces.
Cold Steel Pendleton Mini-Hunter Details
VG-1, Satin Finish
3" Drop Point
0.12" Blade Thickness
Flat Grind
Full Tang
Fixed Blade
Rubberized Over-Mold Handle
Secure-Ex Sheath
2 Ounces
6.625" Overall
The Cold Steel Pendleton Mini-Hunter is a great knife, perfect for everyday carry or those who prefer minimalist gear while out in the field. You can pick one up for about $34. To get this knife, click any link in the article or simply click the button below.


All images courtesy of Smoky Mountain Knife Works – smkw.com.