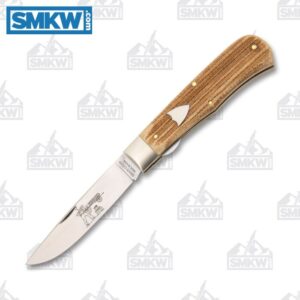 The 23s have arrived! If you're looking for a sturdy traditional pocketknife jigged Micarta handles with a single carbon steel blade and a solid lockup? Look no further than the GEC 23 Tidioute Pioneer Woodland Micarta. It's made by Great Eastern Cutlery, so you know it's made small batch in the USA. You also know this means supplies are limited. Make sure you get yours before it's gone.
First, let's talk about this locking liner. Any time you hear someone mention Michael Walker invented the linerlock, someone will invariably mention traditional locking liners. They're similar but not the same. This is not a one-handed unlocking knife. We mean, yeah, you probably could use it one-handed so don't take that statement as a challenge unless you have a burning desire for a pretty nasty cut.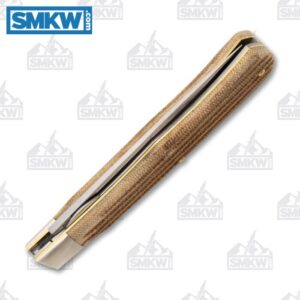 The GEC 23 Pioneer (model number 235120L) has a 3.75" satin finished 1095 carbon steel drop point blade that opens with a nail nick. It has clearly defined half stops and is super snappy with a fairly strong pull.
With a closed length of 4.5" and a weight of 4.8 ounce, this isn't a small pocketknife that practically disappears in your pocket. It's a big, beefy knife that meant for some serious work. It has tan-ish jigged micarta handles mounted on brass liners and secured with brass pins. It has a brushed nickel silver badge shield and brushed nickel silver bolsters. It has a substantial feeling in hand and is super slip resistant. The overall look of this knife is cohesive and, as always with GEC, follows the theme beautifully. It's both a pretty knife with great touches that elevate the look as well as a solid work knife that all but begs to be used.
GEC 23 Tidioute Pioneer Woodland Micarta Details
1095, Satin Finish
3.75" Drop Point
0.11 Blade Thickness
Nail Nick
Half Stops
Locking Liner
Micarta Handles
Brushed Nickel Silver Bolsters
Brass Pins and Liners
Brushed Nickel Silver Badge Shield
4.8 Ounces
4.5" Closed
8.25" Overall
Made in the USA
The GEC 23 Tidioute Pioneer Woodland Micarta is a solid performer as well as pretty pocketknife with a fabulous throwback theme. Whether you're a knife collector, a knife user, or both this knife makes an outstanding addition to your EDC gear. If you're interested in this knife, click any link in the article or simply click the button below.


All images courtesy of Smoky Mountain Knife Works – smkw.com.