NKD 2020 is tomorrow! Yes, when you wake up Monday August 24th, it's the Knife World's High Holiday. In case you've been sleeping through the last few years, National Knife Day is not only an actual thing, it's become the high holiday for all things sharp and pointy. Andy and Melina from Guys Talk Knives graciously gave us a few minutes to answer some questions and maybe provide a little bit of insider info.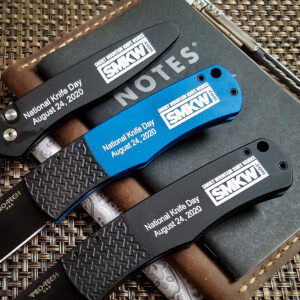 KNR: So, what all goes into the making of National Knife Day?
Andy: We started digging into this three months ago – reaching out to our vendors, making plans, and doing everything we can to make NKD 2020 a success. We're extraordinarily thankful for the relationships we have with the different brands. This year we have over 70 National Knife Day giveaways totaling around $10,000. We'll be dropping seven giveaways an hour for ten hours straight.
This last week has been a whirlwind of work preparing for our High Holiday. From building graphics to just trying to organize everything for NKD 2020. It's insane, but absolutely worth it.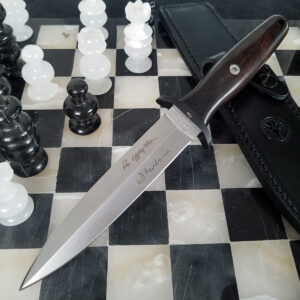 Melina: For me, this is the quiet before the storm. Next week is when chaos begins for me. Between stuffing swag bags, picking winners, and shipping it gets a bit hectic, but, like Andy said, it's totally worth it. For me, National Knife Day is all about saying thanks to the knife community. Every week, they're there in the Guys Talk Knives Lives chatting with me and helping out whenever and however they can. The #SMKWarmy is truly a great group of people, and we appreciate them every day. This is our day to say, "Thanks for all that you do."
KNR: We saw on the show there's a Microtech this year? What other manufacturers are going to be represented at NKD2020? And, we have to ask, are you giving away the Pena?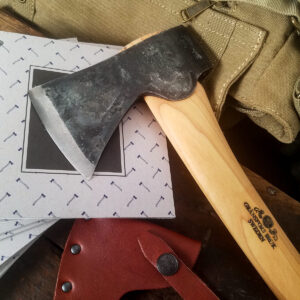 Melina: *laughs* We are never giving away the Pena, but we are giving away about a billion other things. This year purchasing and our vendors seriously knocked it out of the park! There are a ton of great fixed blade knives, slipjoints, kitchen knives, modern folding knives, autos – there's even a Gransfors Bruk axe! Everybody knows I hate shipping axes, but I'm actually stoked about this one!
Let's see. Who can I talk about without getting a frown from Andy? Ah! This year, CRKT (again) gifted us with something you can't get anywhere else. Cold Steel gave us ALL the things! Case and Buck both chipped in some tremendous knives. Oh! We have not just one Benchmade to give away. We have two! There's more, but I can feel Andy forming a frown, so I should just save the rest for tomorrow.
KNR: Well, it sounds like it's going to be a great year! When do the festivities start and how can everyone get entered to win?
Andy: We'll be live on Facebook and YouTube all day starting at 9am (EST). Giveaways will appear throughout the day on Facebook and Instagram. I'm already exhausted thinking about it, but we always have so much fun with this on National Knife Day.
Melina: As Andy said, we'll start broadcasting on Monday at 9am, then we'll be Live every hour on the hour from then until sometime in the early evening. If you happen to have the day off, come chat with us! If you have to work, stop by and say hi to us on your break! We're going to have a fantastic time with a great group of people.
Smoky Mountain Knife Works presents Guys Talk Knives (Live) twice a week most Tuesdays and Thursdays around noon (EST). You can find them on YouTube here: SMKW's YouTube Channel.