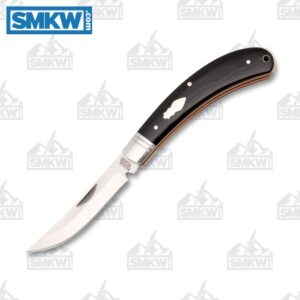 The new Rough Ryder Upswept Bow Trapper is one of the prettiest designs we've seen in a traditional slipjoint so far this year. A long, upswept blade and a curved handle combined with black micarta handles and that awesome pop of color with the red underlines? Yes, please. Put all that gooey goodness with a price tag of only $13 and you seriously can't beat it. Remember the Rough Ryder Work Knife? We believe this is going to go as fast as that one did. So, yeah, you'll definitely want to get this one before it's gone.
The Upswept Bow Trapper has a 3" T10 (high carbon, tungstun alloy steel) trailing point blade with a 0.10" blade thickness and a Scandi grind. Did we just say a Scandi grind? Yes, we did. When designer Andy Armstrong was asked, "Why a Scandi grind?" his answer was because it makes the upswept blade look even more upswept. He further explained that it was more of a "faux" Scandi than a true Scandi. In any case, we like his choice.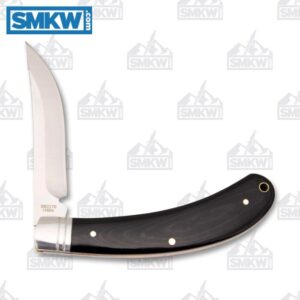 The high carbon alloy steel will absolutely develop a patina over time, and we can't wait to see how they turn out. It does have half stops and a match strike pull.
It has black micarta handles with red underliners mounted on a brass frame. All that combined together looks amazing. It's accented by a nickel silver Bomb shield and brushed stainless steel bolsters. It has a brass lanyard tube for accessories. For all the long, sleek curves, this knife is a pocket friendly 3.875" closed and weighs a mere 2.56 ounces.
Rough Ryder Upswept Bow Trapper Details
T10 Alloy Steel, Satin Finish
3" Trailing Point
0.10" Blade Thickness
Scandi Grind
Slipjoint
Half Stops
Match Strike Pulls
Micarta Handles
Red Underliners
Brass Pins and Liners
Nickel Silver Bomb Shield
Brushed Stainless Steel Bolsters
Brass Lanyard Tube
2.56 Ounces
3.875" Closed
6.875" Overall
The Rough Ryder Upswept Bow Trapper is a beautiful and unique slipjoint pocketknife. You can pick one up for about $13. We believe they're going to quickly sell out so make sure you get yours before they're gone. To get this knife, click any link in the article or simply click the button below.


All images courtesy of Smoky Mountain Knife Works – smkw.com.