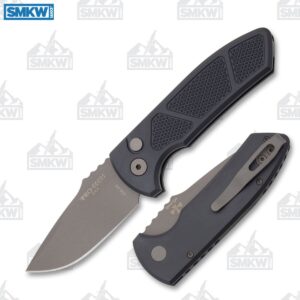 Les George designed the original. Pro-Tech turned it into a formidable out-the-side auto, and Smoky Mountain Knife Works just got Pro-Tech to cover anodize the handle and bead blast the blade to make the whole thing gunsmoke grey. This SMKW Exclusive Pro-Tech LG405 Short Bladed Rockeye (SBR) has always been stout and ready for heavy use, and now it gunsmoke grey all over.
The original Pro-Tech SBR had black hard anodized handles and a bead blasted blade and hardware. This SMKW exclusive version has gunsmoke grey anodized handles and a  grey bead blasted blade and hardware. It's slick for sure and looks and feels like heavy metal all around.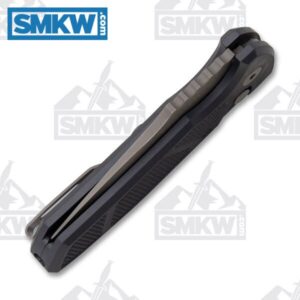 This super snappy push-button out-the-side auto features a 2.5″ CPM-S35VN stainless steel clip point blade with a gunsmoke grey bead blasted finish. It's 1/8″ thick and has a nice heavy jimping for your thumb on the spin. To match the blade, Pro-Tech has bead blasted all the hardware including the push-button, the torx screws, and the removable tip-up pocket clip.
The handles are textured 6061-T6 Aluminum with a deeper grey anodized finish. While this is a chunk of a knife, the handles are very ergonomic and perfect for hard use.
"The Short Bladed Rockeye, or SBR for short, is a compact version of the outstanding full-sized Rockeye Auto. Both knives are designed by Marine Corps knife designer, Les George," Pro-Tech tells us. "The 2.5″ blade is built for a multitude of cutting tasks. The pocket milled spine adds extra grip and depth to the design, and the knife snaps open with authority thanks to the Pro-Tech coil spring automatic mechanism."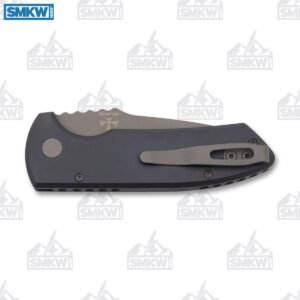 It's 3.75″ closed, 6.5″ overall and weighs in at just 3 oz. It looks like a beast and feels like a dream in a short bladed package.
SMKW Exlcusive Pro-Tech LG405 SBR Details
2.5″ CMP-S35VN Clip Point Blade with a Bead Blast Finish.
Push button out-the-side automatic.
Anodized textured 6061-T6 aluminum handles.
Bead blasted hardware and removable tip-up pocket clip.
3.75″ Closed.  6.5″ Overall. Weighs 3oz.
This version of the Pro-Tech LG405 SBR is exclusively available at Smoky Mountain Knife Works (smkw.com). If you'd like to learn more about it or get one before they're gone, you can click any link in this article or the button below.