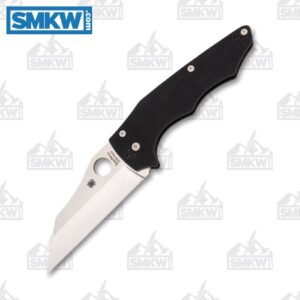 Have you seen the Spyderco YoJumbo? She ain't fat. She's thick though. She's curvy in all the right places.
Unless you've been living in a non-Spydie hole since 2011, you know all about the Yojimbo 2. It's one of the most consistently popular, less-standard Spydercos on the market. The YoJumbo is just like the original but bigger and beefier.
The YoJumbo features a 3.98" CPM-S30V stainless steel Wharncliffe blade with a hollow grind and a blade thickness of 0.145". It quickly snaps open with a Trademark Round Hole.
The curvy and ergonomic G-10 handles on this compression lock are mounted on skeletonized, nested stainless-steel liners. It's has an open back construction which keeps maintenance super simple and helps keep the weight down to 5.3 ounces. The handle length is 5.37" which makes for a generous grip, even for those with large hands. Finally, this baby is fully ambidextrous and tip-position-ambivalent with a four-position pocket clip.
Spyderco YoJumbo Details
CPM-S30V, Satin Finish
3.98" Wharncliffe
0.145" Blade Thickness
Hollow Grind
Trademark Round Hole Opener
Compression Lock
G-10 Handle Scales
Skeletonized, Nested Stainless-Steel Liners
Four-Position Pocket Clip
5.3 Ounces
5.37" Closed
9.29" Overall
Made in the USA
If you loved the Yojimbo 2, you simply got to take the Spyderco YoJumbo for a ride. It's a sexy, phat knife with all the perfectly placed curves. To get it, click any link in the article or simply click the button below.


All images courtesy of Smoky Mountain Knife Works – smkw.com.