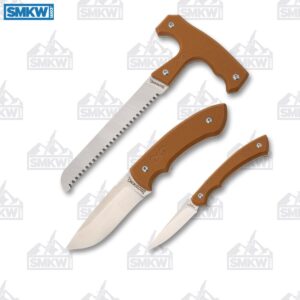 Hunting season is upon us, and the Browning Primal 3-Piece Set is a budget addition to your pack. With two knives and a bone saw, this set comes in at under $50 and that's hard to beat.  Let's have a look at what that includes.
All three tools feature tan, textured G-10 handles attached with Torx screws. The handles are not only grippy, they resist wear like a champ.  Beyond that, they're easy to clean up. If you need to, you can unscrew the handles and make a deep clean happen. They all feature 8Cr13MoV steel as well.
There are two knives in this set, a skinner and a caping knife. Both feature full tang construction. The caping knife is 6.75″ overall and has a 2.5″ caping blade that's .09″ thick (nice for slicing). The skinner is 8.4″ overall with a 3.75″ drop point blade that's .11″ thick.  There's also a Bone Saw in the set. It has a T-grip handle which really lets you hang onto it in the slickest of conditions. It's 8″ overall with a 6.75″ saw blade.
It comes with nylon pouch that holds all three tools. It folds neatly in half and closes with Velcro for easy stowage in a pack or bag.  Click on any thumbnail below to launch a slide show of all four images.
Browning Primal 3-Piece Set
Three tools: Caping Knife, Skinning Knife, and Bone Saw
All Full Tang 8Cr13MoV
All G-10 Handles (with screws)
Caping Knife: 6.75″ with 2.5″ Blade
Skinner: 8.4″ with 3.75″ Blade
Saw: 8″ with 6.75″ Saw Blade.
Comes with Nylon Pouch
This Browning Primal 3-Piece Set runs under $50. If you're looking for an affordable option to throw in your pack this season, this is it. You can get a set by clicking any link in this article or the button below.