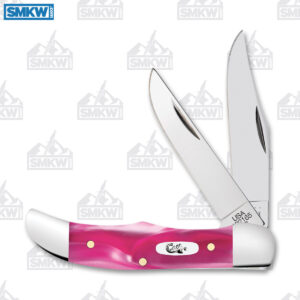 They're always gorgeous. We've seen them in red, blue, and green, and now there's pink. Case has debuted the new Case Pink Pearl Kirinite series to the public just in time for Christmas. If you haven't seen Case's Pearl Kirinite knives, just know this. Kirinite is a composite material, and the Pearl Kirinite Case offers in its handles has a depth and luster that looks like pearl – but better.
The new Case Pink Pearl Kirinite series features mirror-polished Tru-Sharp surgical steel blades. The handles are Pink Pearl Kirinite, and we're not talking about baby pink here. It's bright, hot pink with that glowing, almost 3-D luster that has appeared on the other Pearl Kirinite series knives.
The bolsters are high-polish nickel silver and most patterns in the series have brass pins and liners (the Russlock and KickStart don't).  This series bears the nickel silver Case Oval Script shield and the Ten-Dot tang stamp.
There are nine patterns available in the Case Pink Pearl Kirinite series including the Pocket Hunter, the Small Stockman, the Mini Trapper, the Slimline Trapper, the Trapper, the Small Texas Toothpick, the Peanut, the Kickstart Trapperlock, and the Russlock. Click any of the thumbnails below to launch a slideshow of images.
Case Pink Pearl Kirinite Details
Tru-Sharp Surgical Steel Blades (mirror polish)
Pink Pearl Kirinite Handles
Nickel Silver Bolsters
Case Oval Script Shield
Brass Pins and Liners (most patterns)
If you're interested in seeing more about each of the patterns in the new Case Pink Pearl Kirinite series, you can click any link in this article or the button below. They range in price from $55.99 to $125.99.