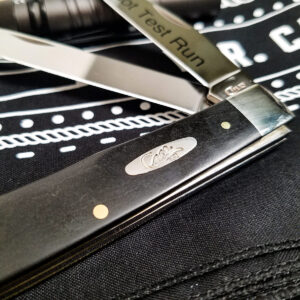 Maybe it's because we've got short term memories but Richlite just now hit our radar as a handle material. Honestly, we absolutely love it. It's like kind of like paper micarta, but somehow better. If the Case Richlite Pilot Test Run is any indication, we can't wait to see what they do with more of this handle material.
The Case Richlite Pilot Test Run has black Richlite handles mounted on brass liners. It has an almost matte finish and the color variation is super subtle. One of the things we love most about it is how almost warm it feels in hand. To be a smoothly buffed knife without an intentionally slip resistant grip, it's also pretty dang slip resistant. Overall, it just has a great feel in hand. We love it.
This Pilot Test Run is a trapper. It has 3.125" mirror polished Tru-Sharp surgical steel clip and spey blades. It does have half stops, and it opens with a nail nick. It's 4.125" closed and weighs 3.7 ounces.
Case Richlite Pilot Test Run
Tru-Sharp Surgical Steel, Mirror Polished
3.125" Clip and Spey Blades
Pilot Test Run Etch on Main Blade
0.06" Blade Thickness
Slipjoint
Black Diamond Richlite Handles
4.125" Closed
Made in the USA
The Case Richlite Pilot Test Run is available in extremely limited quantities. Make sure you get yours before it's gone. If you're interested in this knife, click any link in the article or simply click the button below.


Click any thumbnail in the following gallery to launch a slideshow of larger images.