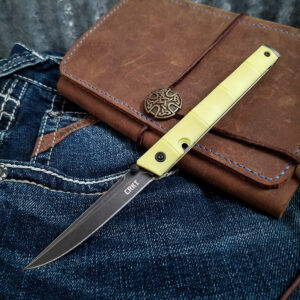 The new CRKT Bamboo CEO is of course sleek and slim. It's meant to be a gentleman's folder suitable for suit or shirt pocket carry. It's all the things we loved about the original but with a yellow handle machined to look like bamboo. It's like the knife version of wearing socks that are just a bit funky without breaking the dressed code. Based on traditional knifemaker Richard Rogers' custom, the original model was one of our top knives of 2019. Let's look at this new iteration.
It features 3.11" 8Cr13MoV clip point blade with a black stonewash finish and a blade thickness of 0.09". We can tell you from experience this thing has an incredible slice. The IKBS pivot system means it's a fast thumb stud flicker. The cut out in the handle helps you place your thumb just right to find the sweet spot and get the perfect flick, every time.
This linerlock has yellow GRN handles that look like aged bamboo. It has a nice slip resistant finish for a good grip, and a generous handle length of about 4.45". All this gives you a ton of utility without sacrificing a single ounce of pocket friendliness. The handles are a slim 0.43". It weighs 2.1 ounces. It comes with a tip-down pocket clip.
CRKT Bamboo CEO Details
8Cr13MoV, Black Stonewash Finish
3.11" Clip Point
0.09" Blade Thickness
Manual Folder with IKBS Ball Bearing Pivot
Linerlock
Thumb Stud
Machined GRN Handle Scales
0.43" Handle Thickness
Slim Tip-Down Pocket Clips
2.2 Ounces
4.45" Closed
7.63" Overall
The CRKT Bamboo CEO adds a touch of funk to your daily carry rotation. You can pick one up for about $40. If you're interested in this knife, click any link in the article or simply click the button below.


All images courtesy of Smoky Mountain Knife Works – smkw.com.