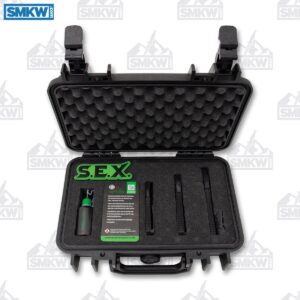 Sex sells, and there's a price tag. According to Heretic Knives, it's $1,190. Yep, that's the price of their new Heretic Knives S.E.X. Set of Manticore out-the-front automatic knives. If you think that sounds pricey, well, we did too, until we really looked at what comes in the S.E.X. set, and then, wow. This thing is awesome.
Now, before we get into this, I just want to tip my hat to whoever it was at Heretic that realized they've been selling the Manticore-S, the Manticore-E, and the Manticore-X – and that when you put those in a set, they spell SEX. Congratulations whoever you are. You win knife marketing for the year.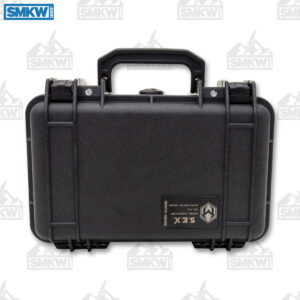 With that out of the way, let me tell you that this set comes in a black, customized Pelican 1170 case. That's right. The case itself is 11x8x4″ and weighs nearly three pounds. The padded liner is egg shell inside the lid and cutout to perfectly fit the contents of the set.
Inside the case, you'll probably notice the three knives first. Each features a black DLC-coated,  CPM-S35vn dagger blade that's razor sharp. The handles are all black DLC-coated T6 aluminum with titanium roller-ball tip-down pocket clips and glass breakers. And, the handles are stamped with their appropriate letters (S, E, and X). When they're lined up in the case, they spell – you guessed it – SEX.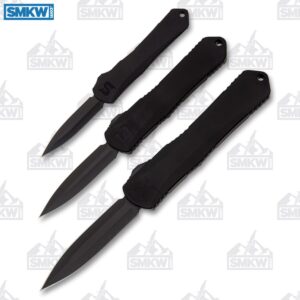 Your set also comes with a PVC patch and some OTF lube, as well as a certificate of authenticity. You're going to want that, because Heretic Knives only made 25 of these sets. You heard me right. 25 (a collector's dream).
If you're not familiar with the knives in general terms, let's hit the highlights real quick. The Manticore-S is the smallest version of this OTF, with a 2.625″ blade and an overall length of 6.5″. The Manticore-E (as in EDC) has a 3.2″ blade and is just under 8″ overall. The Manticore-X is the big dog. It has a 3.7″ blade and is 9.2″ overall.  All three are dual-action, out-the-front automatics with super sweet action.
Heretic Knives S.E.X Set of Manticore Knives
Custom Pelican 1170 Case
Manticore-S
Manticore-E
Manticore-X

All with CPM-S35VN dagger blades with a black DLC coating
All with T6 Aluminium handles with a black DLC coating
All with Titanium roller-ball tip-down pocket clips
All with Glass Breakers and Custom Handle Stamp

PVC SEX Patch
OTF Lube
Certificate of Authenticity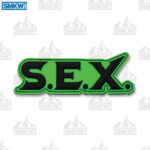 If you want to be one of the 25 lucky people to own this Heretic Knives S.E.X. Set, they're available at Smoky Mountain Knife Works right now. If you want to see all the details, simply click any link in this article or the button below.