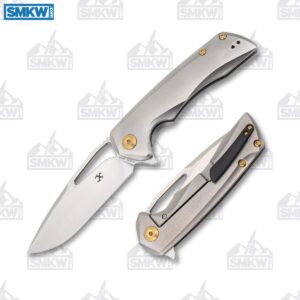 If you're not familiar with the new kid on the block named Kansept, don't be fooled. The brand might be new, but the makers aren't. As we understand it, Kansept is an off-shoot of makers from another well-known brand, and they're ability to make modern premium knives meets or exceeds most on the market. The Kansept Kryo is just one great example of a premium modern folder in the Kansept line.
Straight up, the Kansept Kryo is a modern, premium flipper folder. While there are other versions of this pattern on the market, we're focusing your attention on the Orange Peel Titanium version.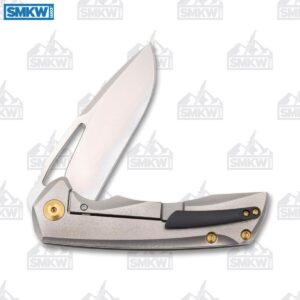 It features a 3.6″ CPM-S35VN drop point blade with a gorgeous satin finish. It's .15″ thick, and the craftsmanship on the blade itself reminds us very much of the quality you'd see in a Reate (and yes, we're aware that's a mouthful).
It's a manual flipper with ceramic ball bearing pivot, but it also has an elongated thumb hole. Both methods of opening are super slick and super smooth.
The Kryo is a framelock and this version features what Kanspet calls Orange Peel Titanium handles. At first glance, you wouldn't notice it. The titanium handles look like they took an orange and rolled it over the entire surface while it was still hot enough to leave an imprint. The sculpted lines in the Kryo's handle make it feel substantial but comfortable in hand.
The pivot and screws are anodized to look like brass, and the titanium, tip-up pocket clip is ambidextrous.  At 4.5″ closed and just over 8″ overall, the Kryo is a medium to full-sized EDC.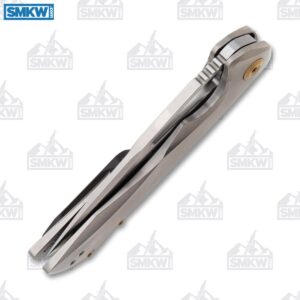 We can't get over the fit, finish and feel of this knife. The action is smooth as silk and the lockup is strong. We'd equate it to Reate or a high-end WE knife for sure.
Kansept Kryo Orange Peel Titanium Details
3.58″ CPM-S35VN Drop Point Blade with a Satin Finish
.15″ Thick.
Manual Flipper and Thumb Hole Opener
Ceramic Ball Bearings
Orange Peel Titanium Handles
Framelock
Anodized Hardwared
Ambidextrous Tip-up Pocket Clip
4.5″ Closed. 8″ overall. 4.3oz.
The Kanspet Kryo Orange Peel Titanium is a premium modern flipper folder. If you're interested in this knife, simply click nay link in this article or the button below.