Look, we all have that one buddy who loves to look at your knives, but doesn't have one of his own. The Kershaw Terran could be the perfect starter EDC for him. At $30, this 7.125″ SpeedSafe flipper looks great, works well, and could be the knife that gets your buddy off your back – at least for a while.
Clearly, the Kershaw Terran is part of Kershaw's budget line of imported knives. It features a 3.125″ 8Cr13MoV drop point blade with a bead blasted finish. It's not a fat drop point, and at first glance you might mistake it for a clip point or even a Wharncliffe because of the deep top swedge. Regardless, it flips open with the speed and accuracy that you've come to expect from a SpeedSafe assisted opener.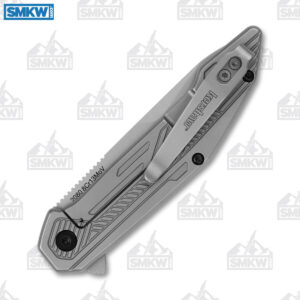 The handles are stainless steel with an almost Tron-like grip texture – very modern, and we were suprised to find that this $30 knife was a framelock as well.
As with most Kershaws, the pocket clip is tip-up and ambidextrous, so it doesn't matter if your buddy is a lefty or righty.
Is this the best EDC in the world? Of course not, but it's adequate and affordable. At 4″ closed and 3.5oz, it's a nice slim, light pocket ride for anyone getting into knives, and it looks good too. You can't beat all of that for $29.99.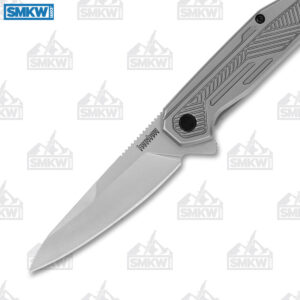 Kershaw Terran Details
3.125″ 8Cr13MoV drop point blade
Bead blast finish
SpeedSafe Assisted Opening Flipper
Framelock
Stainless Steel Handles
Ambidextrous Tip-up Pocket Clip
4″ Closed, 7.125″ Overall, and Weighs 3.5oz.
The season of giving is approaching fast. If you want your knife-coveting buddy to have one of his own, think about the Kershaw Terran. It's a solid little EDC that won't blow your budget. If you're interested in learning more about the Kershaw Terran or want one of your own, simply click any link in this article or the button below.

'